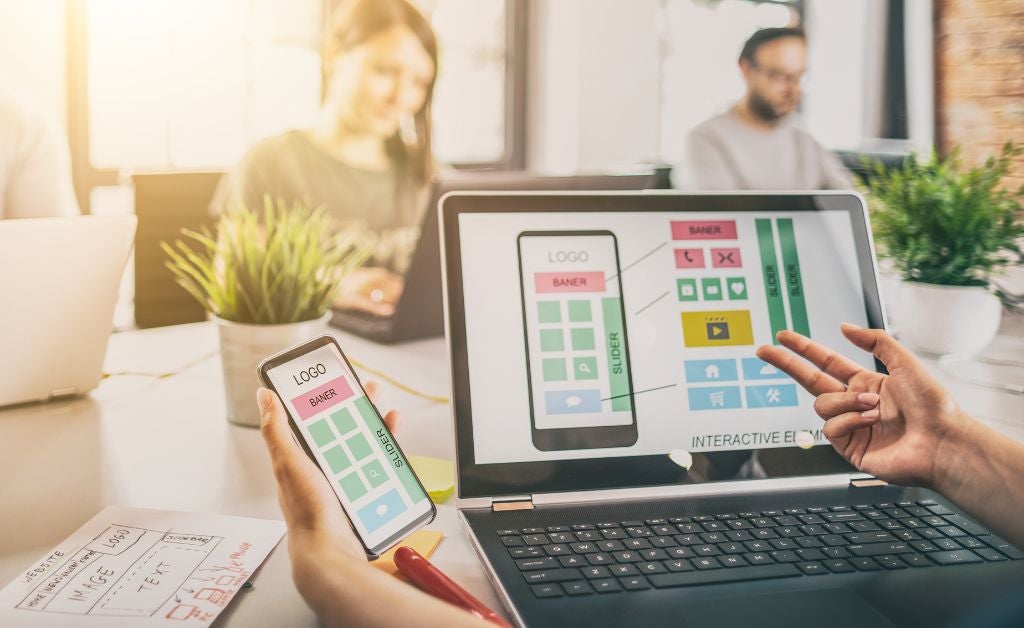 Table of Contents
User Interface vs. User Experience
Before starting our overview of typical UI/UX design mistakes, we want to clarify the differences between user interface (UI) and user experience (UX.) The two are often used interchangeably, but they signify different things. UI covers all the elements (pages, buttons, icons, etc.) that a person uses to interact with a product or service, whereas UX covers the overall experience of a person as they interact with a product or service. For a more detailed explanation, read 'What is UI/UX, and What Is The Difference Between them?'
7 Common Mobile App Mistakes to Avoid
Our 10+ years of experience in mobile app design and development have taught us many things, including some very common mistakes that companies make when building mobile applications. When you're aware of these mistakes, you can easily avoid them.
1.Ignore the target audience
As said before, when designing a mobile application, you should always keep the end-user in mind. After all, you are designing for the end-user, not for yourself or other designers. By regularly reviewing how the app flows and functions from a user standpoint, you can avoid design bottlenecks that might burden the end-user once the app is released.
2.Complicated user interface
The user interface of an application should always be intuitive, meaning users can navigate the app with ease and without frustration. Avoid symbols and icons that users won't immediately recognize or that can be interpreted in different ways. Continued optimization and testing will help you detect and remove unnecessary touchpoints and confusing flows.
3.Notifications, pop-ups, updates
Too many notifications, a large number of advertisements, pop-ups that can't be easily closed, and constant updates will drive users away from your app. This doesn't mean that you can't show any, it just means that you need to find a certain balance. Naturally, updates will be necessary over time but there should be limits on the frequency.
4.Hidden call to actions
Call-to-actions (CTAs) are used to draw attention and help guide the user through your application. A common mistake that designers make is hiding the call to actions, in order to keep the user interface clean. Hiding non-essential options is a great way to declutter your user interface, hiding CTAs is not. This could lead to users uninstalling your application.
5.Too much functionality
Although it might sound good on paper to offer multiple functionalities within your app, having too many elements will confuse users and negatively impact their user experience. Instead, you should focus on the basic features and functionalities. A large number of features will consume excessive memory, which leads us to our next point.
6.Slow load time
Much like websites, having a slow load time can be detrimental to mobile applications. If a mobile app is slow or cumbersome to use, users will abandon it. There are various ways to optimize a slow app and increase its responsiveness and efficiency, hence, improving the user experience (see points 3 and 5).
7.Disregard user feedback
Ultimately, the best people to tell you about your app are the ones who use it. Once your app has been released, keep a close eye on the feedback that users leave in the App Store or Google Play. You might also be able to find valuable reviews on forums like Reddit and social media feeds like Twitter. You can improve and update your app as per your user's requirements.
Nearshoring Your Mobile App Development
If you don't have the in-house talent or available resources to create a high-quality app, consider nearshoring your project to a mobile development company. At Pixel506, we help our clients avoid the pitfalls that lead to building an unsuccessful mobile app. We offer a full cycle of application design, integration, and management services. If you're interested in learning more about the user interface and user experience services, we provide at Pixel506, please feel free to contact us. We'd love to get to know you and learn more about your business over a digital cup of coffee.
Key Takeaways
When designing a mobile application, it is key to keep the end-user at the center of decision-making.

UI covers all the elements that a person uses to interact with a product or service, UX covers the overall experience of a person as they interact with a product or service.

Common UI/UX mistakes that designers and developers make include ignoring the target audience, complicated IU, large numbers of notifications, hidden CTAs, too much functionality, slow loading times, and ignoring user feedback.

When you don't have the in-house talent or available resources to create a mobile app, nearshoring your project is the best solution for you.

Pixel506 is a trusted and proven end-to-end solutions agency with 12+ years of experience in mobile app development solutions.
More About Pixel506
Pixel506 is a digital marketing agency that helps businesses achieve their goals through creative solutions and innovative approaches. Back in 2009, in Brooklyn, we started off as a small agency with big plans and great ambitions. Fast forward to 2022, and Pixel506 now also has offices in Costa Rica, Colombia, Nicaragua, and Peru. Over the years, our team has grown and attracted lots of talented and dedicated people.
Today, our team consists of 65+ UI/UX designers, graphic designers, content creators, SEO strategists, software developers, and other marketing professionals. Together, we share a strong drive to help our clients succeed. We like to think along with our clients as we create compelling and customized solutions that help them grow their businesses to new heights.
Related Resources:
Want to learn how our Nearshore teams can enhance your business growth?
Contact us today!