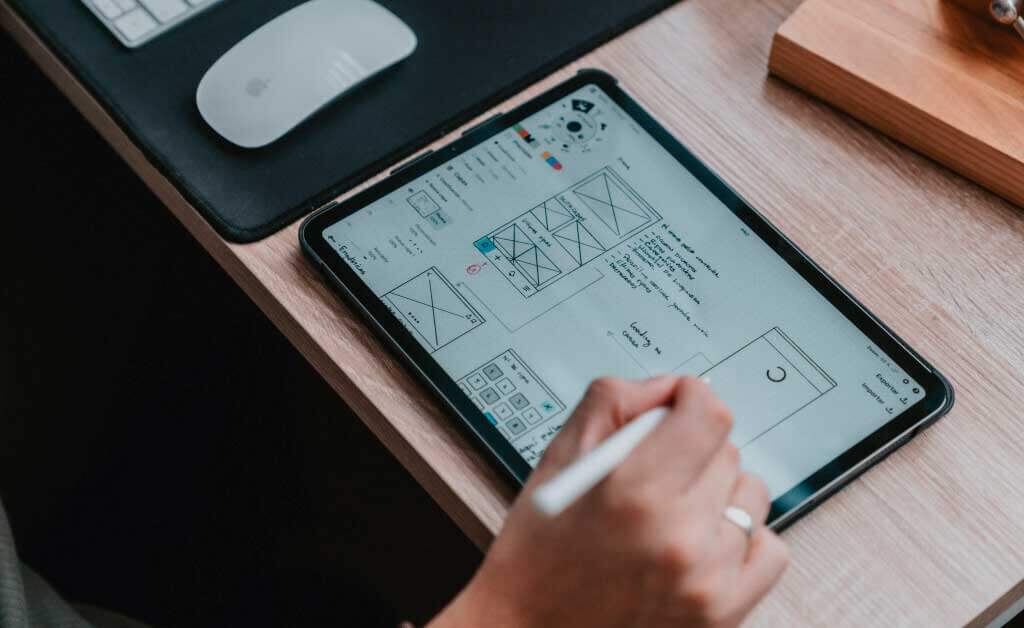 UI Research
How do UI designers know how to create pleasing and engaging visual elements and experiences that keep users loyal to an app, website or even audio device (these too fall under the category of requiring UI design)? One answer is research. Designers do significant amounts of research before they make design decisions.
A/B Testing
UI designers must make sure the visual language they choose fits in with the type of application they're developing. The color palette font, and images for an app that gives subscribers access to breaking news is going to be different from a game app where cars race one another. Much of this comes down to common sense. But as part of UI research, teams will create what are called wireframes with different design elements and color palettes in A/B testing, ask test groups to select which visuals they prefer, and ask why. UI design strives to be predicitible without being boring. A designer wants to create an interface and an experience that is both easy to navigate and enables the user to fulfil his or her objectives with joy— not boredom.
UI and Data
Another means of research involves data. Companies can see data and real feedback based on users' behavior. Whenever possible, UI designers will want to take advantage of data that a business may have regarding its clients and industry competitors to make more informed decisions about its user interface. The amount of information that can be gleaned from data is vast and can be targeted to be highly useful in nearly all phases of UI design.
Within these more difficult to quantify parameters such as usefulness, ease ,and joy-of-use, there are principles and best practices that provide specific guidelines and help. Below are some of our favorites.
UI Design Guidelines and Principles
Simplicity

While perhaps the most obvious principle, it's an often undervalued and underused maxim. The golden rule is to keep interfaces simple with one item or task per page. This avoids overwhelming, confusing, or distracting the user. Good UI design isn't about putting a lot of information in one place, it's about guiding a user through his or her journey as smoothly as possible. So rule number 1, keep it simple.

Consistency

Making user interface design consistent means adhering to the same color palette font and sizing, identical prompts, menus and consistent commands throughout the interface. This creates patterns that work for the user and make his or her journey easier. Nothing is more confusing to a user than bold changes within a single interface.

Intuitive Design

Designing intuitive flow with the user in mind is one of the best ways to create outstanding design and a defining principle for good UI design. It requires anticipating users' needs. Where would the home button make the most sense?, for example. Design that guides the user seamlessly through his or her journey in the interface is priceless. Designers learn to think like a user and make the navigation nearly a thoughtless stream of actions leading to an end result.

User Control

Despite your best efforts to make an intuitive and seamless user interface, users will be navigating by trial and error. To help make users feel comfortable within an interface, it's helpful to provide easy back buttons and shortcuts to the home page, in short: routes of escape. This helps the user feel in control of the experience and let him or her know that there's always a way back to the previous step.

Visibility

To get the job done, UI design must of course, be visible and easily legible (excluding audio UI). Emphasis should be placed on easy to read fonts, and a consistent hierarchy of fonts. This means placing the most important buttons or type first and making them the largest font size. UI design should also be scalable according to the device being used noting that phones and tablets have a far smaller screen size.

Flexibility

Flexibility is all about allowing for more than one user persona or intent within an interface. For example, an app that has a wide breadth of users will want to consider how a less confident user might engage with the interface, without alienating more tech-savvy users who want to get their objective accomplished asap. Design should be able to accommodate both. Examples include, advanced search bars, shortcuts, and filters that would enable rapid, pointed engagement.

Feedback

Feedback should be available for all readable UI copy that requires an action. For example, after a user inputs his personal information, there should be an acknowledgement that he or she has accomplished this step. Generally, the acknowledgement should differ from the previous screen; examples include a flash of color, a pop-up window, or a new screen. Another area where feedback is helpful is in creating passwords. When users are asked to create passwords, any requirements of the password length, numerical characters, etc. should be clearly stated to expedite the process for users.

UI Development Services

If you're ready to develop an app, create a website, or a software product, Pixel506's talented developers and UI experts can help with your user interface design and much more. From conception to optimized product, we're here to turn your vision into a reality. For more, read our blog article on how to select the best UI/UX partner for your business.
About Pixel506
If you're looking for a nearshore user interface partner, user experience software development service, or a technical staff augmentation service, Pixel506 can help. We are located in Costa Rica but also have Pixelians (team members) based in Peru, Nicaragua, and Colombia. We help businesses gain a competitive advantage and exceed business goals through software development, design, user experience strategies, data, and innovative solutions. Founded in 2009, we have over a decade of experience helping big, medium, and small companies succeed in the digital world. Contact us today to see how we can help―we look forward to getting to know you and your business over a digital cup of coffee.
Key Takeaways
UI design focuses on the elements the user interacts with within the graphic layout of an application.
Designers do significant amounts of research before they make design decisions with such techniques as A/B testing and the use of data.
Simplicity, consistency, intuitive design, user control, visibility, flexibility, and feedback are all among UI principles of design.
Pixel506 offers nearshore UI services to help bring applications to life with UI that engages users and keeps them coming back.
Related Resources:
Want to learn how our Nearshore teams can enhance your business growth?
Contact us today!