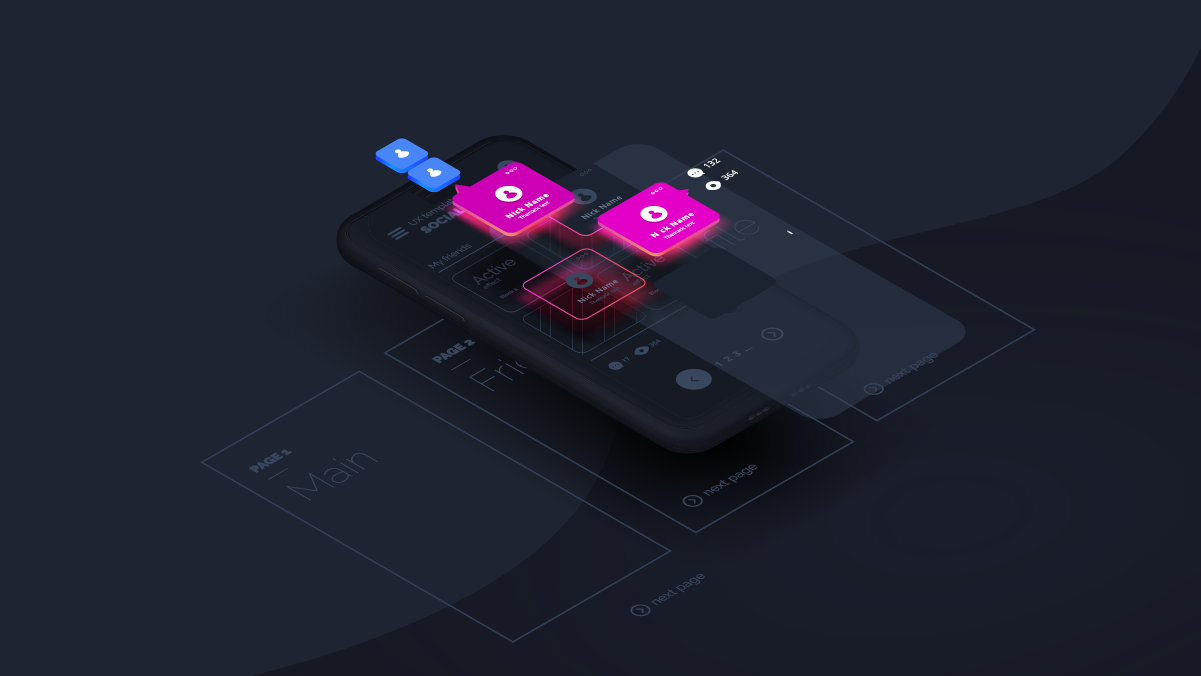 What is UI Design?
User interface (UI) is the visual part of a software application or a hardware device that determines how a user interacts with a product or service. UI design stands for 'user interface design', the process that design teams use to create user interfaces for websites, applications and software, with the focus on maximizing usability and the user experience.
A high quality user interface provides a user-friendly experience, and allows the end-user to interact with the software or hardware in an intuitive way. In today's digital world, not much can be more frustrating to a user than poor user interface. Some examples of UI design that tend to infuriate users include dropdown menus with too many options, having to choose your year of birth rather than simply typing it in, and hard-to-read fonts or poor contrast in color, size or alignment.
What is UX Design?
User experience (UX) is a person's emotions and attitudes about using a particular product or service. UX design stands for 'user experience design', the process that design teams use to create products or services that provide a meaningful experience to end-users. Engaging user experiences are built on a foundation of solid interface design.
For example, Instagram recently made some questionable design choices. The notification icon on the home feed, where people used to find their new followers, likes, and comments, got replaced by a handbag icon which directs users to the Instagram shop. The 'new post' button that used to be at the bottom center, got moved to the top right-hand corner of the screen, and was replaced by a shortcut to 'reels.' In short, the functions to share posts and view interactions were replaced by money making features instead. While it's debatable whether or not these changes are improvements, the update sparked lots of criticism and left users feeling annoyed.
> If you would like to dive deeper into the world of UX, read our blog 'What Is UX Design?'
What is the difference between UI and UX?
Now that we have established that UI and UX are two different elements of the consumer experience, we will explain the differences between UI designers and UX designers. Both positions have different key responsibilities.
UI designers are primarily concerned with how a user navigates a digital product. They focus on the look and layout, and ensure that each page visually communicates the path that the UX designer has shaped
UX designers ensure that a product or service makes sense to end-users by creating a path that logically flows from one step to the next. They lay out a user journey that enables the user to achieve their desired tasks with minimal effort.
UI/UX designers are responsible for the user satisfaction of a product or service. They conduct initial user research, drive a solution vision based on business and user insights, and design intuitive experiences. By continuously improving the product or service (i.e. make the product faster, more user-friendly, or easier to navigate), they improve the overall experience for end-users.
Remember, UI/UX design is not limited to digital product offerings only. UI/UX design for physical products can include the packaging, purchasing process, and product transportation. For digital products, UI/UX design might include user research, prototyping, visual and graphic design, and testing.
> Are you looking for UI/UX internships or employment? Feel free to send your resume with your motivational letter (and if applicable, your UI/UX portfolio) to [email protected], or visit our Careers-page. We are always looking for talented people who are passionate about technology, marketing and digital solutions.
How To Become a UI/UX Designer?
If you are wondering whether or not UI/UX design is right for you, you might be relieved to learn that there are no hard rules about who can become a UI/UX designer. However, having certain personality traits might give you an advantage when it comes to making this career change. Useful skills for UI/UX Designer include communication skills, collaboration skills, visual communication skills, user empathy, and curiosity.
Communication skills: People who have good communication skills are likely better at presenting research findings and solutions to problems to stakeholders and focus groups.
Collaboration skills: Being able to collaborate and work effectively in a team or group situation is another skill that will benefit you, as UI/UX designers often work closely together with developers, product teams, or client teams.
Visual communication skills: Visual communication skills help to create interactive prototypes that can be shared with clients and that can be used for testing. Having an understanding of layout, color, typography, and design theory can be a great benefit.
User empathy: Being able to see problems and experiences through the eyes of the end-user is important for UI/UX designers, when making decisions that are beneficial to the people that they are designing for.
Curiosity: By being naturally curious and asking questions, you will uncover hidden problems and get a better understanding of how to change and improve a product or service.
If you feel like you don't have time to learn new skills, you can opt to hire a professional agency to optimize the usability and accessibility of your website or mobile application.
How Important is UI/UX Design for Your Business?
Did you know that most people leave a website within seconds of landing on the first page? And that 28% of people uninstall an app within two days of installing it? UI/UX is a crucial aspect to product success, and if the look (UI) and feel (UX) of your website or application don't go hand in hand, you are paying the price in terms of user engagement and website traffic.
A good UI/UX design can improve your customer experience, ROI, and SEO rankings, while simultaneously reducing your costs, and distinguishing your company from the competition.
> Want to learn more? Read 'How UX Services Help Businesses Get Better Results' and discover how UX can help your digital business.
Key Takeaways
User Experience (UX) and User Interface (UI) are related, but they are not interchangeable; UX refers to the user experience, while UI focuses on the look and layout.
UI/UX is a crucial aspect to product success, and if the look (UI) and feel (UX) of your website or application don't go hand in hand, you are paying the price in terms of user engagement and website traffic.
UI/UX designers are responsible for the user satisfaction of a product or service. By continuously improving the product or service (i.e. make the product faster, more user-friendly, or easier to navigate), they improve the overall experience for end-users.
If you don't have time to learn new skills, you can opt to hire a professional agency like Pixel506 to optimize the usability and accessibility of your website or mobile application.
About Pixel506
Pixel506 is an innovative digital marketing agency that helps companies with strategies, technology and design. Our experts offer business consulting and can do a full review of your company's processes, as well as offer advice on how to improve them. Feel free to contact us if you want to improve your online presence, if you need help with your UI/UX, or are looking for other digital solutions.
Want to learn how our Nearshore teams can enhance your business growth?
Contact us today!