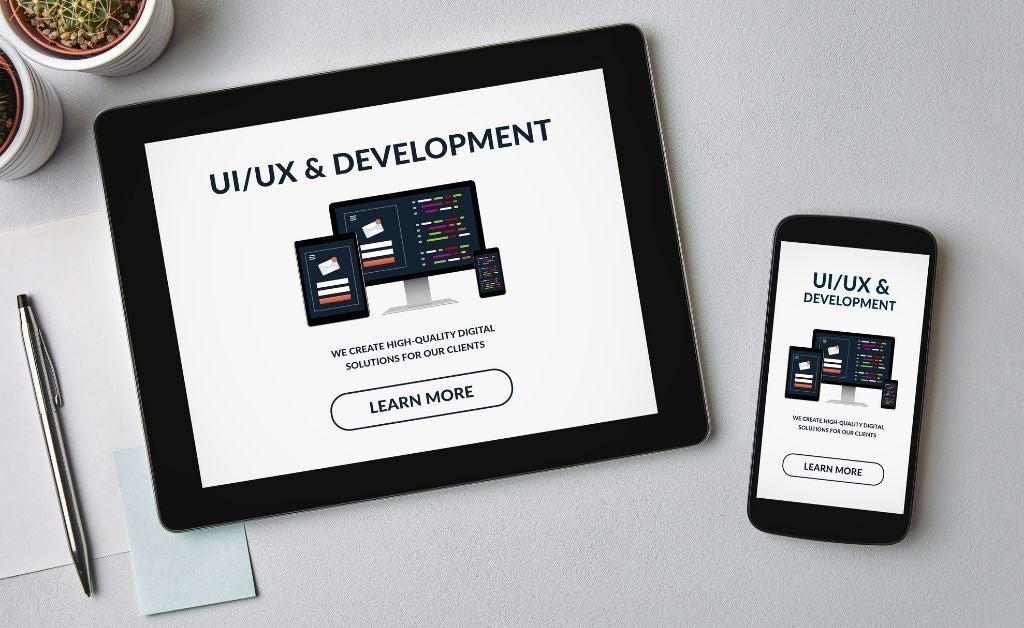 The differences between UX Designers and UI Designers
Although UX (user experience) and UI (user interface) are often used interchangeably, they are not the same thing. UX is the overall experience that a person has when using a product or service, specifically referring to how easy or pleasing the product is to use. UI is the means by which a person interacts with a computer, tablet, smartphone or other electronic devices.
What makes good UX design?
A good user experience provides good information, nice visuals, an interactive design, and a strong overall experience for the user. UX designers focus on creating functional, reliable, and usable products. They design wireframes and prototypes which they then hand off to the user interface team.
What makes good UI design?
A good user interface provides a user-friendly experience that allows the user to smoothly interact with the software or hardware. UI designers focus on creating accessible and intuitive interfaces. UI designers will take care of a wireframe's aesthetics and details to ensure that the end product will revolve around the user's needs.
What makes good UI/UX design?
User experience and user interface are both key aspects of any website, application, and software product. If one if them is lacking, the end product will suffer. Regardless of the product that you are launching, you will want to offer a visually appealing product that is intuitive to use and provides users with a pleasant experience. That means that your UX and UI designers should work closely together.
What Does a UI/UX Designer Do?
We've established that UX and UI design are two separate fields, so now you might wonder if it's possible to be skilled in both UI and UX. Although in these two professions the areas of knowledge and skills often overlap, becoming specialized in both areas is not an easy task.
Most professionals are either more fluent in user experience design or in user interface design. However, this is not to say that it is impossible to be skilled in both. In recent years, the demand for UI/UX designers has increased. Especially in smaller-sized companies, it's common for employees to perform a combination of UI and UI design tasks. When combining these two roles into one position, candidates will be able to enhance their skills. UI/UX designers focus on all aspects of a product's development, including design, usability, function, branding, and marketing. They are responsible for turning an idea into a working design that meets the requirements of the business and the demands of its end users.
In larger companies, it is more likely to see UX and UI designers working together but dividing responsibilities.
The Differences between front-end Web Developers and UI/UX Designers
Front-end vs UI/UX. What is the difference? Now that we have covered the differences and similarities between user interface and user experience designers, let's look into the differences between front-end developers and UI/UX designers services. Both professions work on website or app development and are key members of the product design team. Their shared objective is to create a product that is both functional and easy to use, though, of course, their fields of responsibility are different.
UI/UX designers conduct user research, build wireframes, create a user experience flow, design prototypes, and develop visual elements while constantly ensuring that the design is consistent with the company's overall branding, as well as human-centered, allowing it to meet the needs of the end-users.
Front-end developers ensure that the interface elements lead users to their desired destination along a proper route and within a reasonable amount of time. They also make sure that the obtained data is saved and ready to be processed by backend developers. In short, they make sure that everything functions as expected by end-users.
In short, UI/UX designers focus on the visual side and the user experience of a website, mobile application, or software product, while front-end developers focus on functionality.
What Skills and Tools Do Developers and Designers Need?
Although many front-end developers are involved in site development and app design, they are programmers at heart. That is why they need a solid education in programming, computer science, or a similar field. They should be proficient in coding languages such as HTML, CSS, and JavaScript. Furthermore, they should be experienced in graphic design applications such as Adobe Illustrator, and understand the principles of SEO. Knowing the specifics of back-end work will help the communication between team members more efficient and streamlined.
UI/UX designers are one of the most in-demand careers in the creative industry right now. Many designers come from a graphic design background and dive into UI/UX roles along the way. A main aspect of the product development process is envisioning what the end product will look like. That is why UI/UX designers need to be creative and innovative and have a passion for technology and user-centered designs. Both UI and UX designers need to have proficiency in visual design software such as Figma, Illustrator, Sketch, and Photoshop. Knowledge of typography, color theory, layout, icons, and general design is important too.
Who Do You Need for Your Project?
Whether you are working on a website, mobile app, or software product, chances are that you are trying to solve a problem for your customers. In order to be able to do so, you need to first understand their needs and expectations. What are your potential customers looking for, what do they value, and how can you differentiate yourself from what's already out there? When you act upon the insights you gather, you can launch a successful product or service that solves your customers' problems and helps you grow your business.
If you don't have in-house expertise, you can consider partnering with a nearshore development company with a large talent pool. The right partner will have developers (back-end and front-end or full-stack) and UI/UX designers on board who will blend well with your internal team. They will also consult you in the process so you understand exactly what it is that you need, what they can offer you, and what to expect.
Hiring an award-winning user experience design company like Pixel506 can be a worthwhile investment for companies that don't have the time or required resources to launch effective sites, apps, or software. We offer user experience services including user research, user interface design, and usability testing. Plus, when you partner with us, you can be sure that your external team will fit your needs, company culture, and the way your internal team prefers to communicate and collaborate. We do the work, you stay in control.
Pixel506's Proven Process
With dozens of successful projects under our belt, from small campaigns to long-term collaborations, Pixel506 handles each assignment with comprehensive industry experience and skilled team members. From concept to completion, your project is our priority and your peace of mind is our goal. Our proven 4-step process consists of the following phases.
1.Discovery
First, we get to know your business, stakeholders, and processes. Then we dive deep into what you're trying to accomplish and how we can help you achieve the expected results. Together, we analyze your objectives and determine the best plan of action. We match our talent with your business needs, ensuring you have the right people on the project team.
2.Exploration
During the second phase, we develop the implementation strategy and create a timeline that meets your needs. Through planning, organizing, and collaborating, we propose client-focused solutions and provide ongoing oversight of the project cycle and identify needs for adjustment and improvement. In short, we lay the groundwork for your project's success.
3.Creation
During the creation phase, we will design and develop your product using the approved project plan as our guide. Depending on your needs, we will develop a user interface design that makes your products accessible and desirable to use, or bring to life a user experience that will amplify your brand.
4.Optimization
The fourth and final phase is the optimization phase. At Pixel506, we are firm believers that a website, mobile application, and software product is never fully finished. That is why, after your product's launch, we will continue to monitor your KPIs and iterate our strategy and implementations based on your performance. Remember, the way you maintain your site, app, or software product has a direct impact on your project's success in the long run.
Our UI/UX Success Stories
We present some examples of UI/UX projects that Pixel506 has implemented successfully.
Avantica, now known as Encora, accelerates business outcomes for clients through leading-edge digital product innovation. Pixel506 helped to create and implement content that successfully communicates Avantica's unique value proposition through compelling storytelling. We developed a strategy that enhanced Avantica's online presence through digital marketing campaigns. Our rebranding helped the development company breathe new life and energy into the organization. Regarding UI/UX, we designed, developed, and implemented a clean, clear, and simple design to make for easy navigation.
For McDermott, Will and Emery Legal (MWE), an international law firm, we re-organized existing content to create a more user-friendly, easily navigable UI/UX experience. Over a 9-month period, our dedicated team of engineers, user experience designers, user interface specialists, and content creators, worked closely together with MWE's internal team, to develop and implement a website strategy and development plan. Their new website was built for scale with secure infrastructure and geo-specific content, with a mobile-first approach and the end-user in mind. In 2020, MWE's freshly launched website was awarded the #1 Global Legal Website by AM Law Global Website Report.
Key Takeaways
With the right UI/UX designer and front-end developer on board, you can create an effective, visually appealing, and intuitive website, mobile application, or software product.

Both UI/UX designers and front-end developers work on development and are essential members of the product design team, their objective is to create a product that is both functional and intuitive.

Whereas UI/UX designers focus on the visual side and the user experience of a website, mobile application, or software product, front-end developers work on functionality.

An award-winning digital marketing agency like Pixel506 can be a worthwhile investment for companies that don't have the time or resources to launch effective sites, apps, or software.
About Pixel506
Pixel506 is a digital marketing agency with industry-leading expertise in content marketing, website design, software development, graphic design, and performance marketing. We are a Brooklyn-born company but have expanded to Costa Rica, Colombia, Nicaragua, and Peru since our founding in 2009. Today, our diverse team consists of talented digital marketing specialists who bring varied skills and expertise to the table. This includes experienced UI and UX designers and web developers, both front-end and back-end.
Partner with Pixel506
If you think about partnering with us, we would like to hear from you. Whatever business challenge you are facing right now, we have a bunch of talented people who are set to help you crack it—and we'll promise to make it smooth and fun. Let's chat about your vision and make it happen.
Join our team
If you think that you would be a great fit at Pixel506, we have a general application on our site. Whether you are a front-end web developer, a UI/UX designer, or another digital marketing professional, we are always excited to meet ambitious, enthusiastic, and result-driven people who share our passion for technology, marketing, and the cross-sections between.
Related Resources:
Want to learn how our Nearshore teams can enhance your business growth?
Contact us today!