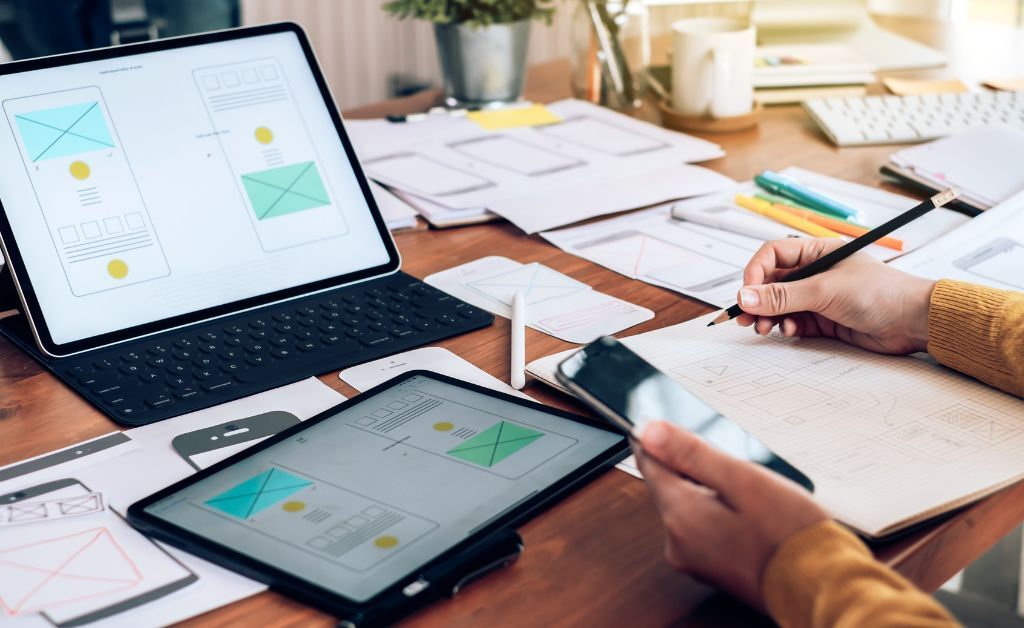 What is a Prototype Process?
A prototype is defined as the display of visual assets representing ideas and possible product iterations with varying levels of functionality built-in. A software prototype is not a full functioning product, but rather a mock-up of how a product could look and feel. These mock-ups are created by using different prototyping tools that are available online. The process of creating prototypes is part of a digital product strategy used to get feedback from the clients and users.
Prototype processes save time and money for businesses as they invest in creating a software product. Through prototyping, they're able to quickly see ideas come to life and understand which piece of an idea will function well and which may not resonate with users. Based on feedback from the prototypes final decisions can be made with greater confidence and without delays during the development process.
What Are Prototyping Tools?
Prototypes help clients and users understand what an end product will look like and some idea of functionality. The main function of prototyping is to save time and money with quick visuals. Decisions can be made early on in the process as to a product's look and feel; and this saves time later on, as there are usually no major revisions needed to the visual appearance of an app or website. This frees the designers and developers to begin working on the functionality and creation of the actual product with confidence. It also eliminates costly changes further down the line.
Proper prototyping tools for both UX and UI enable businesses to try variations of a theme, collect user feedback, map user journeys, and create in detail the visuals, the UX and any other functionality that will achieve a positive outcome for the users. UX prototyping is growing in popularity.
As such, prototyping is an essential piece of the design process for software for web and mobile app development workflow. Choosing the right software to help with creating prototypes that convey the end product as vividly as possible is an important decision. The process of creating a software product is a long creative journey and having the right tools can make all the difference.
Different Types of Prototyping Tools for Different Phases
There are several different types of quick prototyping software and tools that can assist in mocking up design. The best tool will depend on the particular circumstances such as where one is in the design process and what one is aiming to discover with each iteration. In the digital world, there are four main types of prototyping.
4 main types of prototyping for the digital arena
Wireframes

– Wireframes draft up the visuals of a product but without complex features such as user journeys. It's a sketch that comes to life on the computer.

Mock-ups

– Mock-ups are akin to wireframes in that they are a close visual representation of a product but with limited functionality, although they may include scrolling or some click-through options.

Feasibility prototypes

– Feasibility prototypes are less concerned with the visuals and more attune to the functionality of features in a product.

Horizontal prototypes

– Horizontal prototypes represent the front-end user journey and are used to test the interface.
Best Prototyping Tools
And now….drumroll…. we give you a list of our top 5 prototyping tools for designing websites and mobile applications. They are listed in no particular order.
1.Figma
Figma is a great prototyping tool that allows for easy collaboration between parties. It is a quick solution that brings to life design, functionality and offers the ability to collaborate— all in the same space.
Within Figma, it's easy to use tools that make it a breeze for designers and clients to navigate the interface. It offers Boolean operations and uses vectors plus test scrolling, interactions, device frames and overlays. Because Figma uses cloud, designs stay safe and easy to access.
2.Sketch
Sketch is another prototyping tool that comes with great reviews and is highly used. It's a crowd pleaser because of its design screens, the ability to add animations and simplicity. Sketch is a cloud-based interface, which means designs stay safe and are easily shared. Like Figma, Sketch also makes sharing and giving feedback easy. Its overall ease of use is a great reason to invest in Sketch.
3.UXPin
UXPin is a favored prototyping tool by many industry heavy-hitters such as Netflix and Amazon. The software meets designers where they are in the design phase, offering everything from wireframing, to horizontal prototypes to help with the planning process of UI and UX design. UXPin also enables quick and easy collaboration between designers and clients. Users can download a fully interactive prototype.
UXPin Merge is a tool within UXPin that allows designers to design with React components to achieve full consistency with the final product. This means that a prototype will function exactly like the end product that will be in the hands of users. This is a huge time saver and a very cool rapid function.
4.Balsamiq
Balsamiq is ideal for creating an overall vision or structure of a site or app. It's a good starting spot for hashing out design ideas. The wireframing tools are optimal, which makes Balsamiq the perfect testing ground for low-fi wireframes. From here you can begin to incorporate more features into the design and work on UI.
5.Adobe XD
Adobe XD is a tool that offers the full gamut of services from wireframing to prototyping. Its single interface allows designers to run tests on designs and also is able to design for voice interactions, too. Perhaps best of all, designs can be previewed on mobile devices through iOS and Android apps. Collaboration and integration with the Adobe Creative Cloud suite such as Photoshop, make this software a designer favorite!
Final Thoughts
The above prototyping tools are just a few of the many possibilities available for prototyping and the list is by no means exhaustive. What is best for one situation may not be the right choice for another, and as needs vary, so do the best tools for the job.
As tools develop, web and app development visualization, roadmapping and customer journeys become easier to see early on. This helps save organizations time and money in the development process, bringing products to market more efficiently and quickly.
Equally as important as finding the right tools is working with the right teams to bring your design to life. For more on how to hire the best software development company, check out our blog article how to hire the best software development agency.
Key Takeaways
A prototype is defined as the display of visual assets representing ideas and possible product iterations with varying levels of functionality built in.

The main function of prototyping is to save time and money with quick visuals.

There are 4 main types of prototyping tools: wireframes, mockups, feasibility prototypes and horizontal prototypes. Each of these serves a different phase in development.

Five popular prototyping tools include: Figma, Sketch, UXPin, Balsamiq and Adobe XD.
More About Pixel506
Pixel506 is a digital software development agency that helps businesses achieve their goals through creative solutions and innovative approaches. We provide user experience and user interface services. Back in 2009, in Brooklyn, we started off as a small agency with big plans and great ambitions. Fast forward to 2022, and Pixel506 now also has offices in Costa Rica, Colombia, Nicaragua, and Peru. Over the years, our team has grown and attracted lots of talented and dedicated people. Today, our team consists of 65+ UI/UX designers, graphic designers, content creators, SEO strategists, software developers, and other marketing professionals. Together, we share a strong drive to help our clients succeed. We like to think along with our clients as we create compelling and customized solutions that help them grow their businesses to new heights.
Want to learn how our Nearshore teams can enhance your business growth?
Contact us today!