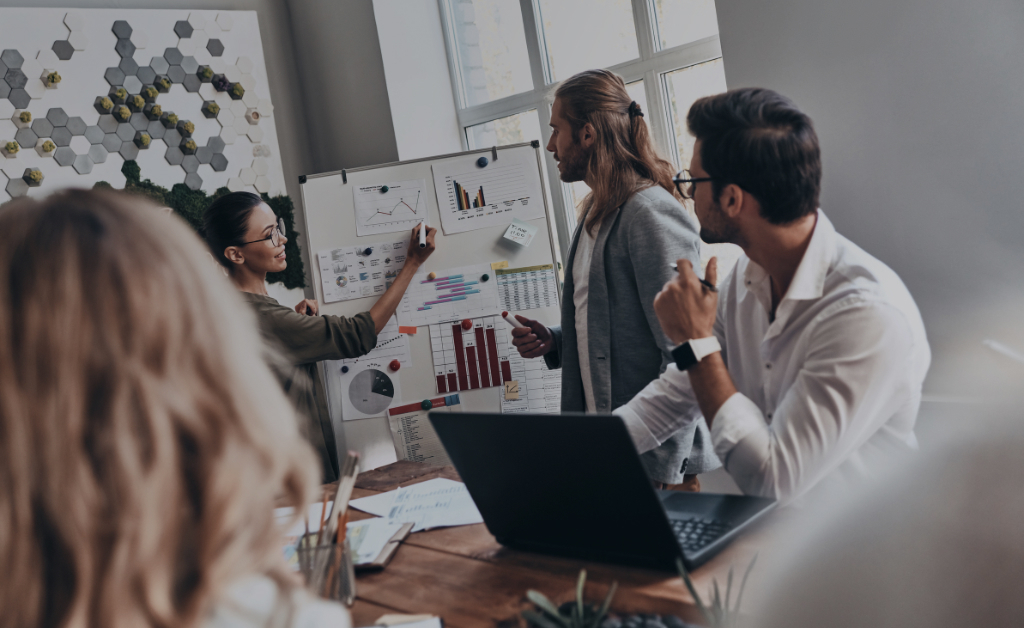 Table of Contents
What Is Service Marketing?
First things first―what are services? Services are non-physical items that can be provided by businesses and paid for by consumers. Services include but are not limited to banking, communication, education, medical treatments, beauty treatments, transportation, tourism, and insurance.
Selling a service is very different from selling a product. When you sell computers or computer parts, the buyer can hold and feel them. But when you sell a service, your audience is buying something that they will never own. For example, when traveling on an airplane, travelers pay for a service―to be brought from Point A to Point B. They don't buy the airline, the plane, or the seat. When visiting a hair salon, consumers pay for a service―to have their hair cut. They don't buy the hair salon, the hairdressing tools, or the hair products.
When selling a service, you are selling an experience. That experience has a perceived value. Airlines can promote their services, as can hair salons. By using service marketing, a company can display its offerings and benefits to increase end-customer value.
So, what is service marketing exactly? Service marketing is the process of bringing a service to market. This includes every step of the journey; from deciding the service's messaging, to launching and marketing the service in a way that creates desire, and thus revenue.
Effects of the Right Service Marketing
At Pixel506, we have successfully helped multiple businesses identify opportunities to improve their service marketing efforts to increase customer satisfaction.
Case Study: The Lombardy Hotel, NYC
Hotel guests don't purchase the hotel, the room, or even the bed they sleep in, they purchase a service―a clean, comfortable, and safe accommodation to stay in for one or multiple nights. Apart from the occasional walk-in, most travelers book their hotel rooms online via a mobile app or website. And thus, as a hotel owner, you want potential guests to land on your website and think, "this is my kind of place."
One example is the work that Pixel506 did for The Lombardy Hotel in New York. We were tasked with updating the hotel's website to reflect the hotel's unique services, amenities, and local attractions as well as create a seamless online booking experience.
Our team successfully amplified the user experience with intuitive navigation and clear copy defining the hotel's personality. Call-to-actions pepper the website inviting visitors to connect further with the hotel. The easy booking process encourages visitors to check rates and book directly with the hotel without having to go through a travel agent or third-party website.
With Pixel506, The Lombardy created new and effective tools for communication through digital marketing channels and valuable content for the hotel's website and social media platforms. Brand engagement increased as did direct bookings through the website.
It is now easier for visitors to navigate to different pages and locate the services and information they need to make a decision or book a room. Although we can't influence the way guests are greeted at check-in or treated during their stay, we were able to market the hotel's services in a way that speaks to their audiences and their needs. By putting the customer experience first, potential guests now choose the services that they need quickly.
The 4 Characteristics of Service Marketing
Service marketing has four distinctive characteristics; intangibility, inseparability, variability, and perishability.
1.Intangibility
McDougall and Snetsinger (1990) defined intangibility as "the lack of physical evidence" and "the degree to which a product or a service cannot provide a clear concrete image". Services cannot be seen, tasted, felt, heard, or smelled before buying.
For example, a customer of a hair salon only has an appointment and the promise of a fresh haircut. The salon wants to convey the idea that its service is professional yet personalized. They need to position themselves as such and truly commit to it. The salon's exterior and interior should look clean and showcase high-quality products, the staff needs to dress properly, and be welcoming and approachable towards customers. The tools and equipment need to look clean and modern. The salon's value proposition should extend to its online presence; its website, social media, email campaigns, loyal customer programs, and other communication should convey feelings of professional service and quality.
2.Inseparability
The definition of inseparability in the dictionary is "the quality or state of being incapable of being separated or divided." One of the characteristics of service marketing is inseparability. When purchasing a product, most customers can separate the product from the staff member who provides it. However, when purchasing a service, customers commonly purchase a service at the time they want to consume them. This can make it challenging to separate the service they receive from the business or staff member who provides the service.
For example, a restaurant sells goods, as well as provides services―they prepare and serve food, set and clean tables, provide a menu, and may even offer entertainment. When visiting a restaurant, the customer will consume their meal while at the restaurant. But even if their meal is satisfactory, their overall experience can be bad due to service, the atmosphere, or even the restaurant's location. It can be challenging for guests to separate the service they receive from the quality of the food because many factors can influence their experience. Every interaction is inseparable from the overall experience.
3.Variability
Variability means a lack of consistency and measures how much data or experiences vary. When purchasing a physical item, the product is consistent regardless of the store or online vendor selling it. When purchasing services, there is greater variability―there will always be changes in the experience of the same service provided by different vendors.
For example, when dealing with insurance claims, one staff member may be responsive and helpful, while another could be unpleasant and apathetic. Even the quality of the service being provided by a single staff member is variable. The level of service they provide could be different from one customer to another and could be greatly affected by their workload and state of mind. The quality of the service a consumer receives may depend on which vendor they choose, and which staff attends to them.
4.Perishability
Perishable goods refer to products and services that have an expiration date. Services, like foods, are perishable, meaning that services can not be stored for later use. Foods may go bad if they are not consumed in a certain period, the same applies to some services. Movie tickets, theater reservations, doctor's appointments, and hotel bookings can not be stored or kept for later use. When left unused, the service vanishes, and a new ticket or another reservation will need to be made.

There are several steps that businesses can take to adjust the demand and supply of their services. For example, hotel rates for the same room will vary depending on peak season or off-peak. Part-time employees may be hired during the peak season to share the workload and serve more tourists.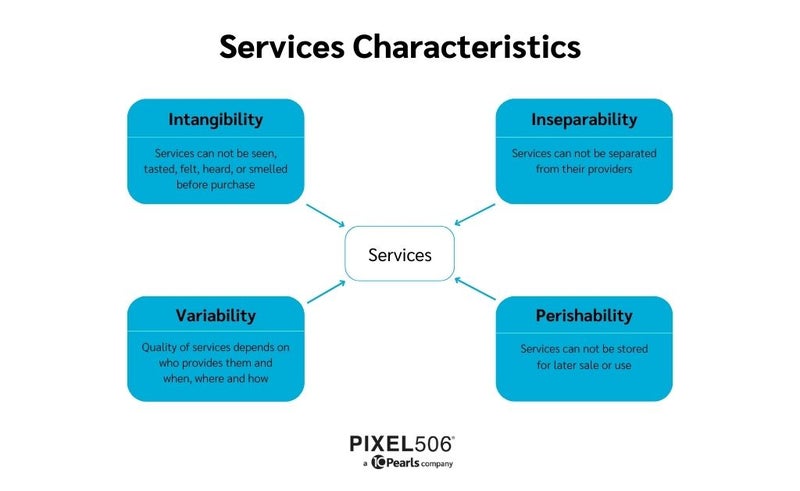 4 Innovations in Service Marketing
We define service innovation in digital marketing as the implementation of new strategies and services that differentiates from the previous methods used to create value for customers. During the COVID-19 pandemic, businesses had to change the way they operate, communicate, and deliver their products and services. Now that the pandemic is winding down, some of these innovations in service marketing will stick around.
1.24/7 customer support
Nowadays, customers expect to be able to browse and purchase products and services at all times of the day. Whether they want to order groceries online, schedule a car service appointment, or plan a doctor's appointment, customers are no longer willing to be restricted to office hours to get help. Businesses that are unable to respond promptly or offer online ordering and booking run the risk of losing customers.
2.Automated customer support
Customer service automation is the process of addressing clients' requests with minimal human-to-human touchpoints. If there is no staff available to speak with customers (before, during, or after office hours), customers expect automated customer support services to assist them. Chatbots, self-service portals, and automated email replies have become commonplace in general customer service and they aren't going anywhere.
3.Cashless and contactless payments
The pandemic has boosted the use of cashless and contactless payments and this trend isn't going away. When paying for products and services, customers want to be able to complete transactions without having to carry cash or hand over their credit or debit card. Quick touch points using a card or phone are preferred. Cashless and contactless payments are not new but the COVID-19 pandemic rapidly accelerated the demand for them across industries worldwide.
4.Personalized experiences
Contactless experiences don't mean the human connection gets lost, instead, it should enhance it. Nowadays, people expect streamlined services and personalized experiences. For example, when checking into a hotel, guests don't want to be treated like they're just another credit card number. Instead, they want to feel that their business is valued, that hoteliers know who they are, and what they like. A HubSpot research shows that personalization helps satisfy consumer expectations and drive repeat sales in almost 93% of customers. The more customized the service, the higher the satisfaction rate.
These four innovations may not exist entirely because of COVID-19, but the pandemic has accelerated them.
Looking for Service Marketing Solutions?
Being in the service industry ourselves, we understand your challenges. Whether you're in education, hospitality, legal, transportation, or any other industry, we can help you market your services and dominate your competition. You can think of Pixel506 as your own 'internal marketing team,' we may be working remotely but we are always here to help and answer your questions. Our experts know how to create, implement, and manage digital marketing strategies for service companies. Outsourcing your marketing efforts to Pixel506 saves you both time and money and allows you to focus on scaling your business. If you're looking for an established agency to help you with your marketing efforts, complete our form or contact us at contact us.
More about Pixel506
Pixel506 is a digital innovation agency that helps companies with creative solutions, providing strategy, technology, and digital marketing services. We power UX, marketing, and software development teams to create products and services that boost sales in the digital space. Since 2009, we have helped numerous companies with their product marketing as well as service marketing strategies. We have our roots in Brooklyn, New York, but our nearshoring teams are located in Costa Rica, Colombia, Perú, and Nicaragua. Our team of talented and skilled professionals will help you market your services and grow your client base. Feel free to contact us for more information or to request a quote. We look forward to helping you grow your business with strategic marketing innovations and personalized solutions.
Key Takeaways
Service marketing is a type of marketing that is used to market a service rather than a product. Differing from product marketing, service marketing is more focused on building relationships and providing value to the customer.

Service marketing has four distinctive characteristics; intangibility, inseparability, variability, and perishability.

Recent innovations in service marketing include 24/7 customer support, automated customer support, cashless and contactless payments, and personalized experiences.

A professional

digital innovation agency, such as Pixel506, can help you market your services and grow your client base.
Do you want more leads? Let's start the process of creating a service marketing strategy that gets real results.
Want to learn how our Nearshore teams can enhance your business growth?
Contact us today!