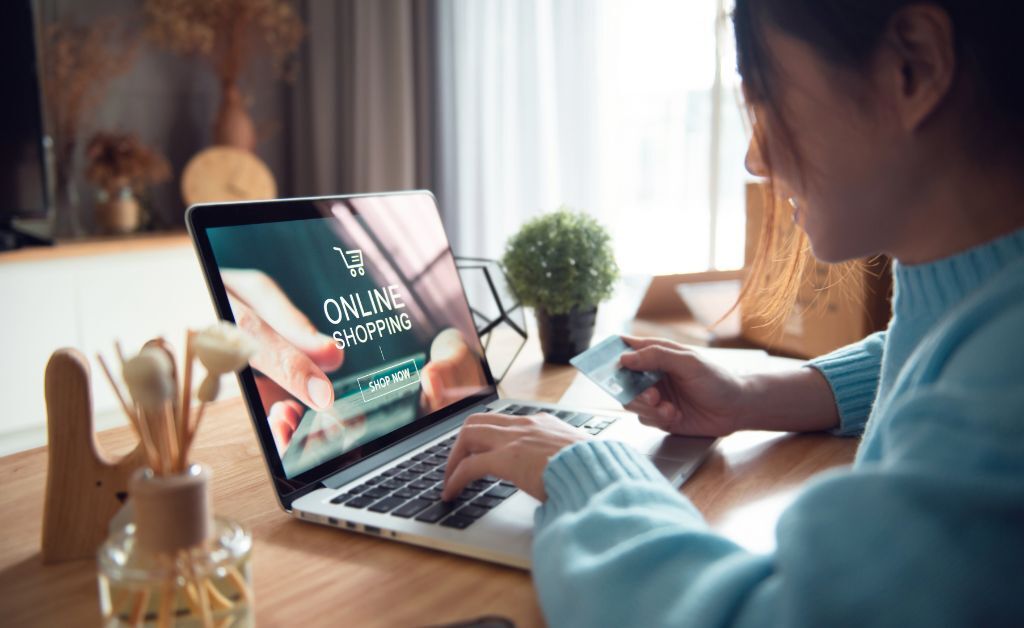 Digital Commerce Vs E-Commerce
Digital commerce refers to the entire culture (selling, marketing, user experience, technology, etc.) that involves selling online. E-commerce, commonly confused with digital commerce, is one aspect of digital commerce. E-commerce is the selling and buying of goods or services online. For the purposes of this article, we will focus on e-commerce.
3 Reasons Why E-Commerce is Growing
E-commerce, already popular pre-pandemic, saw a meteoric rise during the pandemic that shows no signs of slowing. There are several reasons for this. First, people enjoy the convenience of shopping online and having products delivered directly to their homes. Second, e-commerce enables businesses to cut costs for personnel and storefront expenses. And third, e-commerce is nimble and is continually blending to stay relevant.
1. Convenience
The convenience of online shopping cannot be understated. The ease of sitting at a computer to make a purchase, versus driving to a store, parking the car, finding the product, waiting in line to buy, etc. is like night and day. As schedules become busier, shoppers appreciate the convenience of shopping from home and receiving products directly to their door. Consumers are consistently looking for ways to save time and make life easier. Anything that can help them solve this problem related to their shopping, is likely here to stay.
2. Reducing costs
E-commerce is popular not only with consumers but with organizations and businesses too. This is due in part to the fact that moving services online enables businesses to reduce costs, particularly in terms of retail. With less in-person shopping, stores can cut back in several ways. First, they can reduce their brick and mortar presence. This greatly reduces overhead for rent and utilities. Furthermore, by reducing physical locations, they can also cut back on staff. Second, they don't have to pay to ship products from a warehouse to a physical location, and thus they save on transportation costs. Shipping costs from e-commerce sales are usually passed on to the consumer. And third, much of e-commerce interactions can be automated; this cuts back further on personnel costs. E-commerce seems like a win for business.
3. Blending Brick and Mortar with E-Commerce
The third reason that e-commerce continues to thrive is adaptation. In-store shopping has not, nor will it completely disappear, but it will evolve. A blend of online and traditional shopping experiences will become more common. Storefronts will not go away entirely. A brand may have fewer storefronts, employees in-house, and actual items in the store, but they will still have a physical presence. This will be complemented by a robust online presence. While visiting a store, clients will be reminded that a more extensive selection of products is available online. Items will be able to be ordered through apps and websites in a store, and available for delivery or in-store pick-up. Curbside pick-up and "click and collect" options have become greater in number and popularity for good reason. Mainly, there is still a desire for the reassurance of in-person contact and connection. This is being fulfilled through showroom-style stores and pop-up shops where clients can discuss items and gain a tactile understanding of a business's offerings. But the actual purchase is done online, by the consumer.
Invest in E-Commerce—4 Factors to Consider
Now is the time to double down on digital and e-commerce investments. Shopping will continue to be done online in large numbers. In fact, 80% of the American population shops online, and 56.6% of US consumers prefer to shop online to in-store. With these figures in mind, the present is the perfect time to fine-tune or revamp your e-commerce strategy. Not sure where to start? Read on for Pixel506's tips.
1. Audit
Make an audit of your current online presence and e-commerce platforms. See what kind of volume you're selling, what is your delivery time from order receipt to delivery. Do you have a payment processing system with high fees? Are customers expressing satisfaction with your product and delivery service?
2. Assess
Identify strengths and weaknesses including assessing your overall user experience and user interface design. Map out where your strong points are and what you can do to improve other areas. Once you have an idea of where you are and what you can do to improve, you can start making changes. Maybe you need a better user interface design or a quicker roadmap to check out. Whatever your needs, you can find qualified teams to create solutions.
3. Provide Outstanding Client Service
You will want to ensure that your client service is running smoothly and is also optimized. How will you handle inquiries, returns, and complaints? Do you have chatbots for quick assistance? Chatbots are a growing way to quickly solve many customer issues. Those that cannot be handled can then be passed along in a streamlined manner to customer service professionals.
4. Efficient Logistics and Shipping
As part of your strategy, you'll need a reliable shipping partner. Make sure that you have a return strategy in place. A reliable shipping partner that will fill and ship orders on time is crucial to the success of your e-commerce business. A streamlined process from receipt to delivery should be set up to ensure customers receive purchases in a timely manner. It's of note that 50% of online shoppers care most about free shipping on returns. So you'll want to make sure you offer easy returns to keep clients feeling comfortable shopping with you. While this may seem overwhelming there are many shipping partners that help make the fulfillment process easy and quick. Shopify, Shipping Easy,and Ship Station are a few such services.
Selecting the Right Partner to Take Your E-Commerce to the Next Level
Finding the right partner to help optimize your e-commerce business takes effort, but it doesn't have to be a grueling process. Some of the aspects we recommend you look closely at before choosing your e-commerce partner include:
Experience:

Take the time to research your potential partner, look up their mission statement, how long they have been in business and how they are rated.

Credentials:

Examine the website of your potential partner for case studies, client testimonials, and awards to get a sense of their capabilities and strengths.

Reliability:

Make sure you select a partner who can provide a dedicated team in terms of hosting, maintenance, support, and security.

Cultural Fit:

We can't stress this enough, choose a partner who understands your company culture and aligns with your company's values and e-commerce needs.
There are many other factors to consider when choosing a partner. A nearshore end-to-end agency such as Pixel506 has many benefits and may just fit the bill. We are versed in all aspects of digital and e-commerce from digital transformation to technology to marketing and social media. Together we create and support your successful e-commerce service and winning digital presence.
About Pixel506
Pixel506 is a digital agency that helps businesses achieve their goals through creative solutions and innovative end-to-end service. We provide digital strategy, user experience, user interface, and branding. We started off as a small Brooklyn agency with big plans and great ambitions in 2009. Fast forward to 2022, and Pixel506 now also has offices in Costa Rica, Colombia, Nicaragua, and Peru. Over the years, our nearshore teams have grown and attracted top talent and dedicated people. Today, our team consists of 65+ UI/UX designers, graphic designers, content creators, SEO strategists, software developers, and other marketing professionals. Together, we share a strong drive to help our clients succeed.
Key Takeaways
E-commerce, already popular pre-pandemic, saw a meteoric rise during the pandemic that shows no signs of slowing.

There are several reasons for this: convenience, cost reductions, and blending in-store and online experiences.

With these figures in mind, the present is the perfect time to fine-tune or revamp your e-commerce strategy.

Pixel506's tips for a strong e-commerce strategy include: audit, assess, provide outstanding customer service and efficient logistics and shipping
Want to learn how our Nearshore teams can enhance your business growth?
Contact us today!