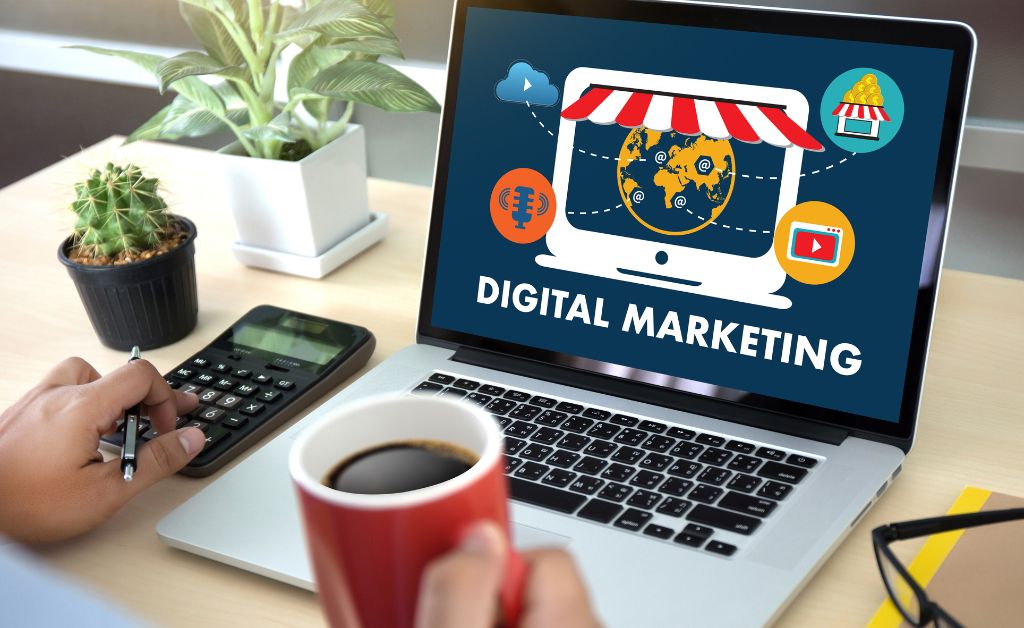 Digital marketing, or the means of advertising products or services through digital channels or communication platforms that run on the internet. When it first arrived on the scene, digital marketing itself was a disruptive force to traditional advertising and marketing. Revenues were quickly shifted away from print areas such as newspapers and magazines to the online space. Quite simply, it was more profitable and with the advent of data, allowing for more personalized and targeted marketing.
With a few clicks of the mouse, advertising and marketing online provided the distinct advantage by which users could immediately and in real-time purchase a product or service. They no longer needed to go to a brick-and-mortar store or visit an office in an urban center. The entire experience of purchasing a product or service could now be done from the comfort of home. Talk about revolutionary! Digital marketing when it arrived on the advertising scene was a disruptive launch!
As a result, advertising began to shift away from traditional formats such as newspapers, magazines, television and radio. This created the rise of digital marketing, which is growing in strength. According to Global Industry Analysts Inc., global digital advertising and marketing spending was estimated at $350 billion in 2020 and is slated to grow to a staggering $786.2 billion by 2026.
Why Advertise Digitally?
The simple answer is because digital marketing works. The growth rates reflect the ROI across digital media channels:
PPC returns $2 for every $1 spent—resulting in a 200% ROI rate.

Paid ad channels with the highest reported ROI rate are Facebook Ads and Google Ads.

For social media ROI, Facebook continues to dominate, proving the best value for marketers— although how long it will hold on the number 1 position is unclear.

Email marketing generates $36 for every $1 spent.

Digital ads increase brand awareness by up to 80%.
With clear advantages, it's easy to see why digital marketing is the darling of the advertising marketplace. Within digital marketing, there are of course many routes and channels to connecting with clients and prospects. Different digital channels include, but are not limited to:
Search engine optimization (SEO)

Pay-per-click (PPC)

Social media marketing

Content marketing

Email marketing

Mobile marketing

Marketing analytics

Affiliate marketing
With this in mind, let's take a look at who is shaking things up in the digital landscape this year.
Social Media Marketing
With such clear advantages, digital doesn't have to be disruptive. The biggest area of engagement appears to be social media, as it is the #1 marketing channel in 2022, according to HubSpot. Within the social world, creators who are coming up with engaging and specific content are making the most splash.
Video Marketing
Companies are investing more in short videos for social promotion on sites such as Instagram and TikTok. 64% of consumers watching branded videos on social media made a purchase after. And Short-form video (less than one minute) has the highest ROI compared to any other content format.
Short format video is a growing way to connect with consumers for its ability to quickly capture attention and hold it. Information can be quickly condensed and with the increasing use of text laid over social videos becoming more popular, there's a new layer of easy access to information for users.
Targeted short form videos are created to appeal to a smaller niche audience, but engagement within this audience is predicted to be high; and the possibility of a creative video going viral is ever present, and the stuff marketers dream of. Those making the videos are becoming more efficient in workflow and process making it easier to create more rapidly and with higher quality filming. Videos usually fall into one of three categories: instructional, inspirational or entertaining.
Influencer Marketing
Influencer marketing is a strategy in which brands partner with social media influencers (individuals with large followings and prestige within their community) to promote products and services for a fee. Influencers are a great resource for marketers, due to their loyal fans, their expertise, accomplishments and unique perspectives.
TikTok launched a platform called Creator Marketplace that enables brands and creators to collaborate on projects. Instagram has also released new tools to connect creators and companies. Experts believe that these tools themselves will create more demand for influencer marketers.
While previously influencers were thought of as having large sweeping audiences, a new trend within this sphere is emerging: The nano and micro-influencer. These partnerships are the latest collaboration and are based not on follower numbers, but on the ability to influence a certain, refined demographic of followers.
B2B influence is expected to grow by 40%-50% this year. We will see brands continue to partner with influencers regardless of whether they're selling direct to consumers or to another business.
Marketers will continue to leverage influencer marketing in 2022. The global influencer market is expected to exceed $16 billion dollars in 2022.
Email Marketing
The email marketing industry is currently worth $9.62 billion, but it's set to grow to $17.9 billion by 2027 Email marketing has been a mainstay of the marketing industry, but it is growing and shifting due to changes in data collection laws.
Email is an easy place to measure if an audience is engaging, and offers multiple additional channels for meaningful connection with a brand and its audience through additional links. Email is also highly valuable because it provides access to first-party data, which is more and more coveted due to continued restrictions on third-party cookies. Email preference centers enable businesses to have a better understanding of their clients interests' and in turn highly specific and targeted email content. Email personalization is also effective with users and creates a feeling of connection and familiarity which translates into sales.
Apple's Mail Privacy Protection (MPP) is intended to give users more control and privacy over their data. It makes it difficult for marketers to know if a user has opened an email or engaged with the brand through email. This has forced marketers to get more focused in their campaigns and to better target their audience with relevant content and information to boost engagement. While MPP may be seen as a roadblock by some, many advertisers see it as an opportunity to connect more meaningfully with their customers, fine-tuning their message.
AI for Marketers
Artificial intelligence (AI) is the technology behind many marketing inventions, such as chatbots, digital assistants, automated messaging systems, and search engines. AI can be used to help clean and analyze data, optimize content and improve SEO results, all of which are invaluable services for a business. AI takes data and allows marketers to turn it into actionable insights that positively impact the business. Marketing is growing more agile, more personalized and better received through technology.
Beyond data, one of the main uses of AI in marketing is the expansion of chatbots to give customers immediate service and assistance. This type of service is growing due to strong customer demand for immediate service and assistance. Further, automating rote tasks such as data collection is made more efficient by AI and frees marketers up to tasks that generate greater revenues.
43% of marketers agree that automation and AI have been the most effective trends for their organization's growth.
Key Takeaways
When digital marketing first arrived on the scene, it was a disruptive force to traditional advertising and marketing.

Both growth and returns in digital marketing make it well worth advertising. For example, PPC returns $2 for every $1 spent—resulting in a 200% ROI rate.

Social media continues to see record growth in advertising. Within the social sphere, short format video is a growing way to connect with consumers for its ability to quickly capture attention and hold it.

Another category of growth within social media is advertising partnerships with influencers who sway consumers.

Email marketing continues to provide strong results and data about consumers

AI is another tool that marketers will continue to leverage to manage data, improve content and SEO results.
About Pixel506
At Pixel506 at 10 pearls company, digital marketing is our passion. Since 2009, we have been helping businesses navigate the rapidly evolving digital landscape while continuously learning about new technologies and marketing strategies ourselves. Today, our team consists of 60+ professionals who share a wealth of knowledge and experience in creating innovative solutions for a wide range of clients and sectors. We're always happy to help companies, big and small, with the planning, implementation, and execution of their digital marketing strategies. We would love to help you grow your business through teamwork and innovation.
Want to learn how our Nearshore teams can enhance your business growth?
Contact us today!