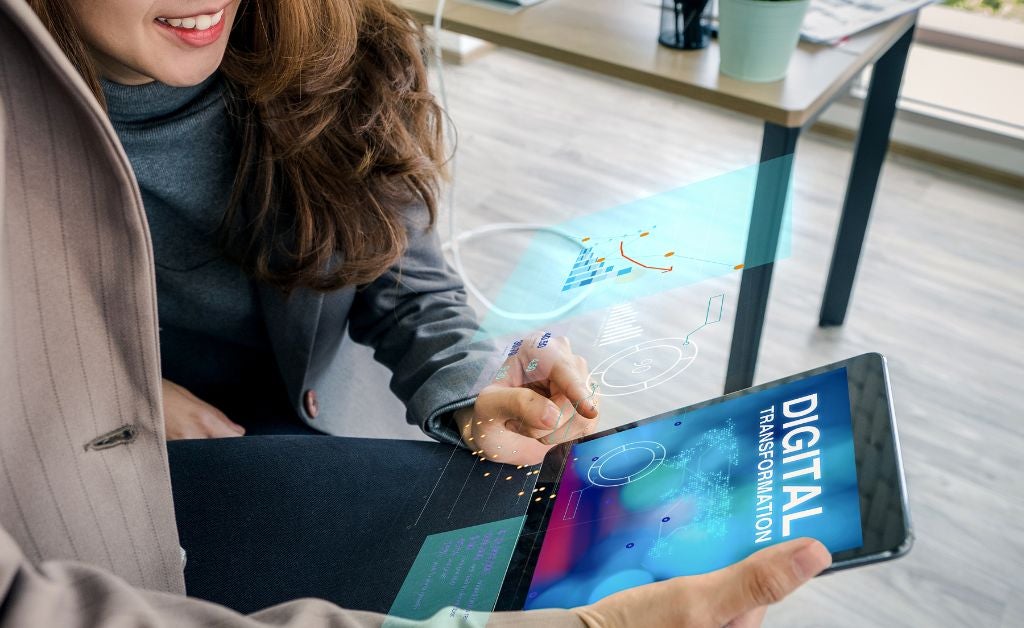 Table of Contents
What is a Digital Transformation?
Digital transformation services is the change that is created when a business uses digital technologies to enhance its operations. Taking this a step further, digital transformations can use new digital technologies to improve already existing business processes. Technology is constantly changing and bringing new digital solutions to society at large. This is particularly true for businesses who are able to harness the power of digital to create better workflows, streamline spending, enhance customer service, and market to a more targeted audience. Digital transformations will drive business in the 21st century, innovating industries across sectors.
So how do digital transformations work? There are many ways in which a business could undergo a digital transformation. The most basic would be creating a digital presence. If a business does not have an interactive website, and it creates one, that's a digital transformation at the most basic level. A digital solution from here would be to create a marketing strategy that centers around driving traffic to the new website. Further, the business could add on a social media presence and marketing component to bring more attention to its website, with the bigger goal of making more sales.
Benefits of Digital Solutions
Embracing emerging technologies earlier rather than later in the game is vital across industries. Opportunities are created and gains made at the same quick pace that technology develops. Digital technologies allow businesses to capitalize on new markets, stay relevant and ultimately increase profits. They also allow for innovation or game-changing shifts in industries that can propel a business to the top of its sector.
Would you like to read more about Digital Marketing Trends to Watch in 2022/2023
4 Digital Innovation Tools
The following tools help digital transformations turn into big successes for businesses. Technology drives innovation.
1.Data for Digital Transformation
Data is a cornerstone of digital transformation. Businesses have more access to information about their customers and competitors than ever before. Those who are able to access the power of data will have an increased acumen in regards to what clients want, why they want it, and how much they're willing to pay. This type of information will allow them to make better decisions for the business's bottom line.
2.Digital Marketing and Client Services
While business is gaining strides with vast amounts of available data on its clients, clients are also becoming more and more demanding in what they want from organizations. Digital serves to provide quicker, higher-quality customer service across platforms. It also creates more ways to respond and quickly react to customer needs. Changes can be made in real-time to meet demands.
Digital further works to keep brands or businesses top of mind through digital advertising across platforms. When it comes to current events or social issues, digital media serves to keep clients aware of brand values allowing them to appeal to clients in multiple ways.
3.Automation
Another way that digital transformations save businesses money is through automation. When an organization can free up employee time by automating mindless tasks, productivity increases. Automation is no longer just for factories. Many businesses automate certain functions, such as payroll or use third-party services to automate their social media posting schedule.
4.Cloud-based Technology
Cloud-based technologies allow businesses to store data on third-party servers with backup capabilities to avoid any accidental or deliberate data loss. Cloud services store data vital for a business such as inventories and personal data.. Cloud technologies are used to innovate sectors from healthcare to real estate to finance, sharing information across departments and facilitating transactions.
These are just a few of the innovation tools reshaping business across sectors. Technologies are developing at breakneck speeds and will continue to provide new innovations. If you're considering a digital transformation in any area of your business, or would like to learn more about any of the innovation tools mentioned above, get in touch with us at Pixel506 a 10pearls company. We are a nearshore company connecting businesses to the right technologies for future growth and success.
Key Takeaways
Digital transformation is the change that is created when a business uses digital technologies to enhance its operations

.

Embracing emerging technologies earlier rather than later in the game is vital across industries as breakthroughs will create big opportunities for advancement.

The following tools transform businesses: Data, Digital Marketing and Client Services, Automation and Cloud Based Technologies.

If you're considering a digital transformation initiative but are unsure if it's the right approach, or you're not sure where to start, Pixel506's experts are available to help you every step of the way.
More About Pixel506

Pixel506 is a digital development agency that helps businesses achieve their goals through creative solutions and innovative approaches. We provide digital transformation, planning and strategy services, as well as user experience and user interface services. Back in 2009, in Brooklyn, we started off as a small agency with big plans and great ambitions. Fast forward to 2022, and Pixel506 now also has offices in Costa Rica, Colombia, Nicaragua, and Peru. Over the years, our team has grown and attracted lots of talented and dedicated people. Today, our team consists of 65+ UI/UX designers, graphic designers, content creators, SEO strategists, software developers, and other marketing professionals. Together, we share a strong drive to help our clients succeed. We like to think along with our clients as we create compelling and customized solutions that help them grow their businesses to new heights.
Want to learn how our Nearshore teams can enhance your business growth?
Contact us today!