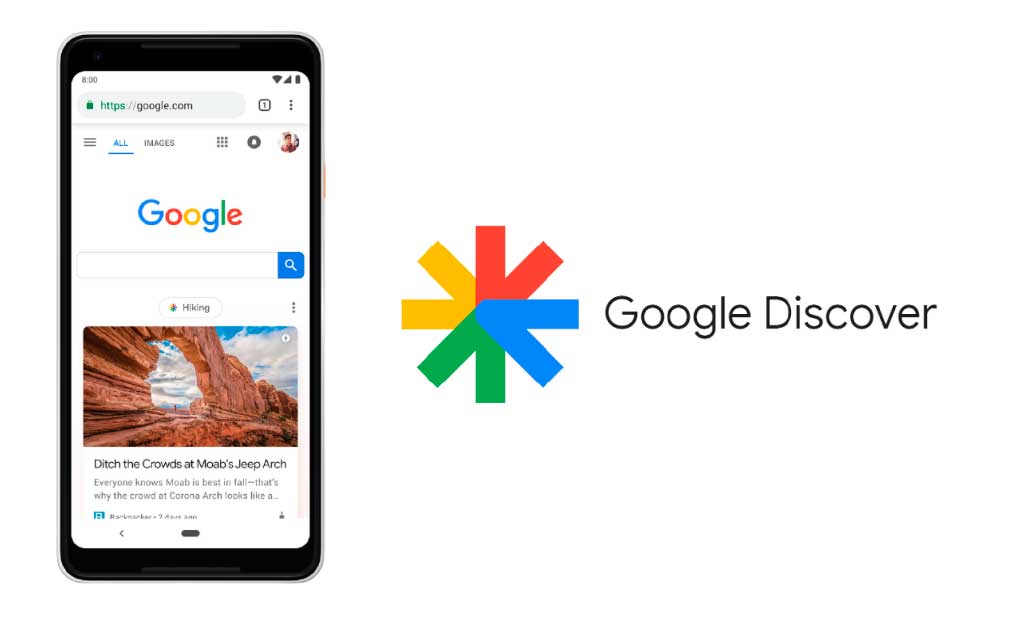 Table of Contents
How Does Google Discover Work?
Google Discover makes it so the users don't have to create their own RSS feeds by visiting sites one by one and selecting them. Google uses algorithms to help understand a user's interests and gathers stories from the web, introducing users to new sites as well as presenting favorites. Google uses your history, sites visited, web activity, searches, and more for accuracy. However, users can personalize their feeds by telling Google what they are interested in and what isn't of interest (there's a dropdown menu for this beside each story). The more information the algorithm has from the user, the more accurate it can be at supplying engaging content. The user simply opens the app and can enjoy curated content.
Google Discover leverages search history to provide content, marketers have taken notice and are using the app to drive traffic to their own sites. The app produces more traffic because it is optimized and customized for mobile.
Why Is Google Discover Valuable for Marketing?
Google Discover can also function as an analytics tool to help measure traffic a site is receiving from the app. This data enables marketers to quickly notice which content performs well and which does not. Content that is underperforming can be pulled while that which does well can be duplicated. In addition, the app can provide reports that detail:
Traffic volume to a site that is funneled through Google Discover

Frequency in which a site appears on Google Discover

Content performance

Top performing content on Google Discover
This valuable information can then be used to create an SEO and marketing strategy optimized for Google Discover users.
How to Optimize for Google Discovery
Make Sure to Bring Your Mobile Game
Google Discover is only available on mobile devices, so anyone who is wanting to up their marketing and SEO game within Google Discover must make sure that they have their website and apps functioning properly on mobile devices. This includes:
-Make sure pop-up ads aren't disrupting a mobile version of your site.
- Ensure that images on the mobile site can be zoomed in on.
- Check your load speed. Content and images should load quickly on mobile devices regardless of the data speeds available. For more on this see #5.
Content is King
Content quality is important and Google Discover rewards sites that use images and visual content alongside written content. This means that sites that want to rank well within Discover's algorithm should consistently and regularly publish high quality content. Google has indicated that consumer interest in the content helps rankings. Visual mediums should accompany written content and be optimized for mobile. Also, larger pictures perform better. To optimize visual content the following guidelines should be considered.
Image size compressed without losing quality

Files should have a descriptive title

Use an alt text

Captions should be descriptive and use keywords
Observe Google's Policies
In order to make your content desirable for Google Discovery, it needs to comply with the company's content policies. The guidelines include items such as Search Quality Rating, Page Quality and Needs Met. However, it should be noted that simply because content conforms to the rules does not mean that it will automatically be picked up by Discover.
Get the Word Out that You're on Google Discover
Let clients and prospective clients know that you're on Google Discover. The software allows users to add sites they would like to follow to their topics of interests and collections. This means that when a blog article is published or an update is made, followers will be made aware. The more users can add you into their community the better for SEO. So get the word out!
Optimize For Google Accelerated Mobile Pages
Google Accelerated Mobile Pages (AMP) is a great way to ensure optimal UX. Google developers have designed AMP for quick loading speed, which is a key component of a user experience. Furthermore, speed is important because Discover discriminates against slow sites. The report feature in the Google Search Console offers options for AMP and non-AMP data, so you can measure the difference. But enlisting the functionality of AMP is an easy way to amplify your UX.
Core vitals or Accelerated Mobile Pages are important for digital marketing efforts
About Pixel506
If you're looking for a nearshore SEO services or Digital Marketing services partner with software development services, or a technical staff augmentation service, Pixel506 can help. We are located in Costa Rica but also have Pixelians (team members) based in Peru, Nicaragua, and Colombia. We help businesses gain a competitive advantage and exceed business goals through software development, design, user experience services, data, and innovative solutions. Founded in 2009, we have over a decade of experience helping big, medium, and small companies succeed in the digital world. Contact us today to see how we can help―we look forward to getting to know you and your business over a digital cup of coffee.
Key Takeaways:
The purpose of Google Discover is to feed users content from across the web that is relevant to their interests.

Google uses algorithms to help understand a user's interests and gathers stories from the web, introducing users to new sites as well as presenting favorites.

Google Discover can also function as an analytics tool to help measure traffic a site is receiving from the app.

To optimize your site for Google Discover: optimize for mobile, create high-quality written and visual content and regular intervals, observe Google's content guidelines, let your users know how to add you to their Google Discover, and lastly as part of your optimization, leverage Google AMP.
Related Resources:
Want to learn how our Nearshore teams can enhance your business growth?
Contact us today!