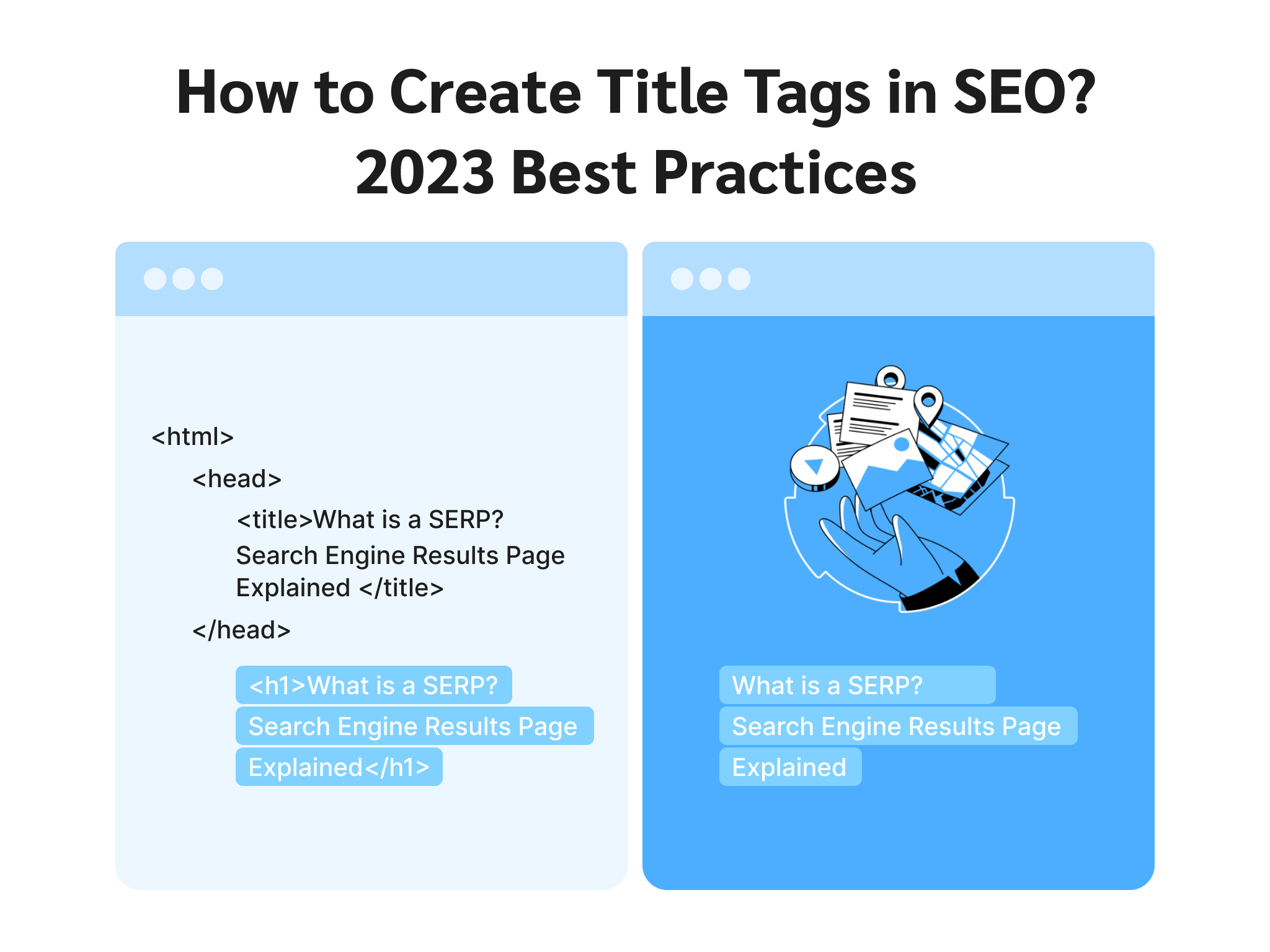 What is a title tag or meta title on a website?
Okay, so you might have heard the term "meta title" or "title tag" before, but do you know what it actually means? It's basically the text that shows up on search engine results pages and in your browser tab to tell you what the webpage is all about. Pretty simple, right?
What is the purpose of a title tag and why is it important?
Title tags are very important when it comes to SEO. Not only do they help with your website's organic ranking, but they're also one of the main areas that search engines focus on when determining your ranking. And if you're not familiar with all the lingo, that's okay! Basically, title tags are just one part of the puzzle, along with things like the URL, meta description tag, hN tag, ALT attribute, and links (both backlinks and internal links). So, if you want to boost your website's SEO, it's crucial that you add and optimize your title tags.
What is a title tag example:
A title tag, often referred to as a meta title, is an HTML element that specifies the title of a web page. When using a search engine like Google, the search results that appear on your screen will consist of a title and a brief introduction of the web pages. It's important for companies and website owners to understand that a title tag and description have the power to raise the click-through rate of organic search results.
For example, when searching for 'nearshore costa rica' with Google, the first title tag that shows up in the search results reads 'Nearshore Costa Rica - Pixel506' with a brief introduction to the topic and a link to pixel506.com/nearshore. Users are likely to click on this title tag because it shows what they are looking for. The meta description enhances the user's likelihood to click and visit this web page.
How to find a title tag on a website?
To find the title tag on a website, there are different options:
Option #1 SEO Minion:
This is the easiest way to check them:
- Download the chrome extension SEO Minion.
- Once downloaded you click on the icon for the extension and it will display On-Page information like title tag, meta description, h1, h2 and more.
Option #2 searching in the code:
This one requires more steps:
- Open the website in a web browser.
- Right-click on the webpage and select "View Page Source" or "View Source" from the context menu. This will open the HTML source code of the webpage in a new tab or window.
- Press "Ctrl+F" (on Windows) or "Command+F" (on Mac) to open the search function in the source code tab or window.
Note: Some websites may use JavaScript or other techniques to modify the title tag after the page has loaded, so the title tag that you see in the source code may not always match the title that is displayed to users.
How long should a title tag be?
Various sources suggest that the optimal length for title tags is between 50 and 70 characters. However, we recommend keeping your title tags at a maximum of 61 characters to ensure they are fully visible on search results.
Can a title tag be the same as an h1?
Yes, they can both be the same. Despite ongoing debate on this topic, there is no clear requirement from Google stating that they should be different. Both title tags and H1s serve different purposes - title tags for search engines and search results, and H1s for users - but they are both important ranking factors and provide a description of your page's content.
How to write a good title tag?

- Keep it concise: As previously mentioned, we recommend keeping your title tags under 60 characters to ensure that they are fully displayed in Google's search results and easy for users to read.
- Include keywords: Use relevant keywords in your title tags to help Google understand what your webpage is about and to make it more likely that your page will rank for those keywords. However, don't stuff your title tags with too many keywords, as this can make them difficult to read and may even hurt your search rankings.
- Make it descriptive: Use descriptive and informative titles that accurately reflect the content of your webpage. This will help users understand what your webpage is about and make it more likely that they will click on your search result.
- Use modifiers: Modifiers are words or phrases that provide additional context or specify the type of content on your webpage. For example, "Best," "Top," "Guide," etc. Using modifiers can make your title tags more descriptive and help them stand out in search results.
- Make it unique: Use unique and relevant titles for each of your webpages. Avoid using the same title for multiple pages, as this can make it difficult for search engines to understand the content of your webpages and may even result in lower search rankings.
By following these tips, you can optimize your title tags to improve the visibility and relevance of your web pages in search results.
How to fix duplicate title tags?
If you have multiple pages on your website that have the same title tag, it's important to fix this issue as soon as possible because it can hurt your search rankings and make it difficult for search engines to understand the content of your webpages. Here are some steps you can take to fix duplicate title tags:
- Identify the pages with duplicate title tags: Use a tool like Google Search Console or a website audit tool to find pages on your website with duplicate title tags.
- Update the title tags: Go through each page with a duplicate title tag and update the title to be unique and relevant to the content of the page. Make sure to use keywords and modifiers to make the title more descriptive and informative.
- Use the "title" attribute: If you have to use the same title for multiple pages, you can use the "title" attribute to specify a unique title for each page. The "title" attribute is an HTML element that can be used to specify an alternate title for an element, such as a link. For example: <a href="page1.html" title="Unique Title 1">Link</a>.
- Use redirects: If you have to change the URL of a page with a duplicate title tag, make sure to use a 301 redirect to redirect users and search engines from the old URL to the new URL. This will help ensure that your website's ranking and traffic are not affected by the URL change.
Conclusion

Title tags, also known as meta titles, tell search engines and internet users a web page is about. When performing a search on Google, the links that you are seeing in the results consists of titles tags and meta descriptions. It is important to use relevant, appealing title tags because they provide search engines with information about the content of a web page and can lead to users visiting your site. A high-quality title tags is concise, includes keywords, is descriptive and informative, uses modifiers (for example, "best" "top", or "guide"), and are unique. Title tags are an important part of any SEO strategy as they are one of the first things people might see when searching for specific products or services. If you are not sure how to write an attractive title, a professional digital marketing agency can help you with this. Nearshoring these, and other SEO-related tasks, is a very common practice because it offers multiple benefits.
About Pixel506
Pixel506 is an award-winning nearshore agency that helps U.S.-based companies succeed in the digital world. We are in the business of software development, web design and development, digital marketing, and mobile application development.
We could tell you how many years we have been around or how much our team has grown during those years, but what matters most is what we do best―designing, developing, and delivering quality digital solutions that help drive businesses forward.
Fill out this form or email [email protected] to discover how our secure, scalable, and reliable solutions can solve even your toughest marketing challenges. We look forward to getting to know you and your business over a (digital) cup of coffee.
Want to learn how our Nearshore teams can enhance your business growth?
Contact us today!