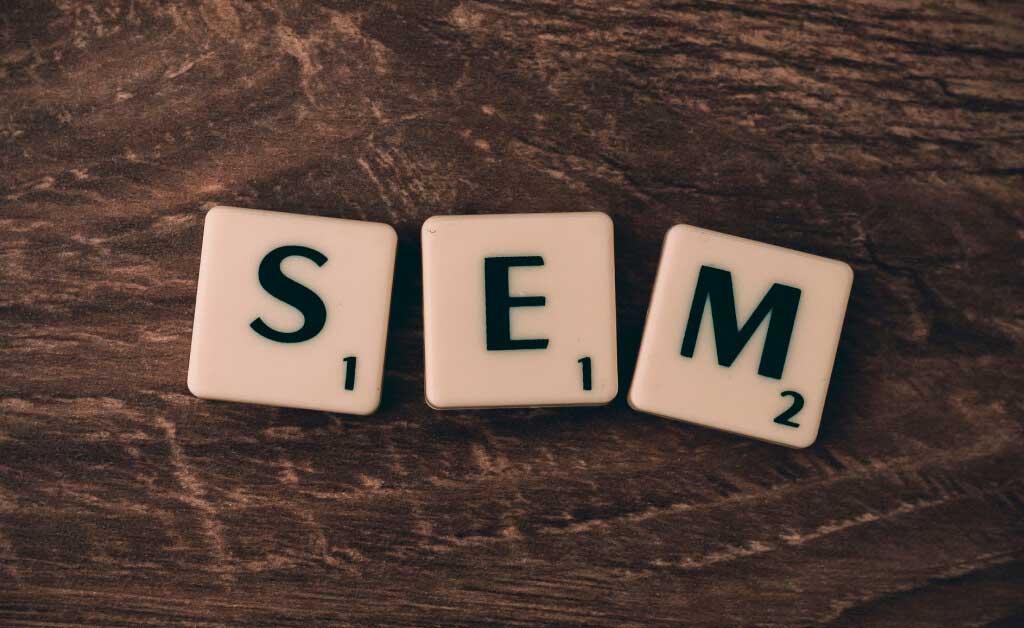 Table of Contents
What Is Digital Advertising?
Digital marketing and advertising services is dynamic, interactive and uses the internet to leverage multiple forms of advertising across various platforms. For these reasons (and more), it's different from traditional advertising. While digital uses different mediums and is spread across different devices and platforms, advertising is still about communicating a brand's story and its problem-solving abilities. The advantages of digital marketing are numerous, including an array of platforms on which to reach clients, different mediums to connect with your target market and data insights to target specific audiences. With data insights and the ability to connect with precise audiences, digital marketing is more effective, helpful and less intrusive than traditional non-digital marketing.
Let's examine some different areas of focus in digital marketing.
What is Search Engine Marketing?
Search Engine Marketing services (SEM) is a digital marketing strategy that focuses on results on search engines such as Google in search results. It is also referred to as paid search or pay per click. When searching for something in Google, for example, the first few results are generally paid ads (and this is clearly indicated). This is simply one umbrella term or type of digital advertising.
What is Search Engine Optimization?
Search Engine Optimization services is a branch of SEM. Search engine optimization (SEO) means using tools at your disposal to ensure your website appears high on search engine result lists so that potential customers can find you. SEO ranking is basically free marketing. It's not a pay-to-play scenario with search engines. To appear at the top of the list, however, there's a lot of behind the scenes work to be done. Using appropriate keywords, creating good content that full fill search intent, and accurate metadata are just a few of the areas that require work to rank well in search.
Every site is competing to rank higher on results pages, which means to rise to the top, requires continuous updating and improvement to rank well. This takes dedication and persistence.
Native Advertising Vs Traditional Advertising
Traditional advertising is in one medium, such as print, and is aimed at a percentage of a large demographic. Take for example an ad in a newspaper, the ad is aimed at sports fans. While it can be placed near the sports section, it will have greater efficacy but its results are not directly quantifiable and many who read the paper are sports fans and therefore outside the target market. This could mean wasted dollars and low ROI.
In the past, digital ads followed a more traditional path with a pinch of aggression by loudly asserting their presence dominating screens with pop-up ads, embedding videos that played unexpectedly, and other tactics that mostly served to annoy users and prevent them from accessing the content that they were seeking. This type of advertising was obtrusive, disliked by all, and is disappearing due to its ineffectiveness. In its place is native advertising.
Native advertising is much more in alignment with the context of the existing content on the page or app. Native ads appear without glaring pop-ups, music, or videos. They slide into existing social platforms almost imperceptibly and are targeted to offer services and products that resonate with the user. The use of data enables much more targeted marketing and a more palatable advertising experience that is generating sales. A survey by IPG Media Labs found that "native ads give a 52% lift in purchase intent and a 32% lift in brand favorability".
7 Advantages of Digital Marketing
Not only can digital advertising be native, it has further advantages. Let's take a deeper dive into the advantages of online marketing.
1.Data Driven-Marketing Works
While initially, data was more about a broad swath of a population, today it has the ability to get highly specific and tell us who is watching what ads. This means that you can more effectively target your marketing dollars towards your ideal audience. "Businesses who use data-driven strategies drive five- eight times as much ROI as businesses who don't." It pays to invest in data to ensure your advertising reaches clients.
2.Personalization
Data has made it possible for businesses to know quite a bit about their customers and would-be customers. We are well past the era when personalized meant an email that contained the user's name in the header. Personalization can now show ads based on past purchases, send emails at a specific time of day when a user may be more likely to make a purchase, or show an ad based on weather or geography, or any number of other data points. Data is also available in real time so that brands can make quick pivots to respond to environmental changes or to adjust underperforming ads. This enables a level of personalization that is unprecedented and is also highly effective at connecting with users.
3.Digital is Versatile
Digital marketing is highly flexible and can be tailored to span multiple channels from platforms such as Facebook, Instagram, or Google. This means opportunities to connect with specific users and also to intersect in multiple places with a repetitive brand connection albeit through different types of marketing and advertising. Video on one platform, audio on another, and so forth is one such multi-channel approach and often these can have links to additional content. This lets consumers dive into the content as much or as little as they like and gives them a sense of control.
4.Less is Left Behind
With digital marketing, abandoned shopping carts are less likely to stay that way. The average online shopping cart abandonment rate is 68.5%, however with digital marketing a seller can target the shopper again with reminders of the abandoned goods. Through remarketing such as emails a shopper can be reminded of the abandoned cart. But it can also go further. Ads of the exact object forlorn in the shopping cart can be shown on various platforms, more subtly reminding the buyer of their interest in a specific item. Some retailers may even offer discounts or free shipping with the assistance of marketing automation software.
5.Digital Is Measurable
With digital marketing, ads are accountable. It's easy to quickly see what is effective and what is not. Clicks are countable, as are referrals and shares. You can see how long a visitor stayed on a page or ad, where the cursor hovered, what was purchased (or left behind in the cart) and the source of the user is discoverable. This will help indicate which platforms are more successful sources for advertising. And best of all, this can occur in real time, so underperforming ads can quickly be pulled and more money can be spent on ads that are working. Digital advertising offers the ability to track to show ROI.
6.Digital Marketing Is Interactive
Many users who access the internet are doing it on their phones. Mobile targets both a younger audience and an audience who may not have the means or the desire to buy a computer. It turns out that mobile engenders higher levels of engagement between users and brands. 11% of users click on an ad and 8% investigate a brand website after viewing an advertisement on a mobile device. Further supporting this claim is a Facebook report that found news feed ads' click-through rate is 10% higher on mobile than desktop and the cost-per-click is 61% lower on mobile vs desktop.
To connect with mobile users, marketers must take into consideration that digital design needs to be scalable for mobile. Proper design means that any content will automatically size to fit smaller screens, perhaps with less text and more clear messaging guiding a user through a website or app.
7.The Future is Digital
It is clear that advertising must reach its audience where it is, and as more and more of the world accesses information and spends time using the internet or data (many through mobile devices), digital becomes the obvious choice for marketers.
The Future of Your Marketing Strategy
Digital marketing services is the future of marketing and the sooner a business gets on board, the better it will be able to leverage new technologies as they appear and connect with a brand audience. If you're unsure where to begin, Pixel506 can help assess your current marketing efforts and make recommendations on a scalable digital marketing strategy.
About Pixel506
If you're looking for a nearshore SEO or Digital Marketing partner with software development services, or a technical staff augmentation service, Pixel506 can help. We are located in Costa Rica but also have Pixelians (team members) based in Peru, Nicaragua, and Colombia. We help businesses gain a competitive advantage and exceed business goals through software development, design, user experience strategies, data, and innovative solutions. Founded in 2009, we have over a decade of experience helping big, medium, and small companies succeed in the digital world. Contact us today to see how we can help―we look forward to getting to know you and your business over a digital cup of coffee.
Key Takeaways:
Digital marketing and advertising is dynamic and uses the internet to leverage multiple forms of advertising across various platforms.

Search Engine Marketing and Search Engine Optimization are just two forms of digital marketing that focus on rankings in search engines.

Native advertising is a new, less intrusive form of advertising that is dominating digital marketing.

We discuss 7 advantages of digital marketing including its measurability, interactivity and higher ROI.

Convinced of its value, but not sure where to start? Pixel506 can help you discover an ideal digital marketing strategy to get your business on course.
Want to learn how our Nearshore teams can enhance your business growth?
Contact us today!