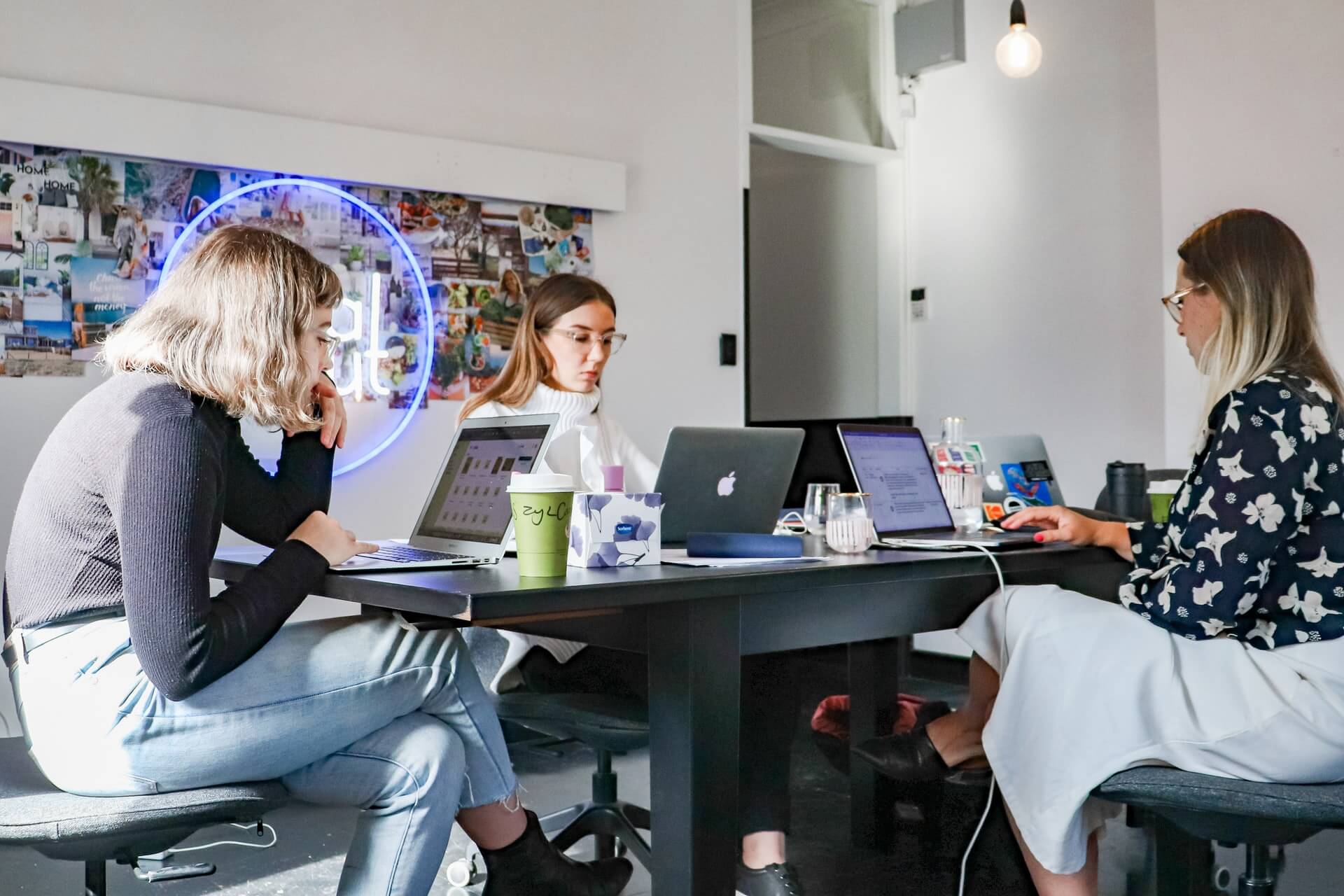 What Is the Difference between eCommerce and eBusiness?
We've established that eCommerce refers to all online commercial activities, including business-to-consumer (B2C) and business-to-business (B2B) transactions. Whenever you purchase clothing, groceries, electronics, or other products online, you participate in the eCommerce economy. eCommerce should not be confused with eBusiness.
eBusiness refers to a broader definition of eCommerce. It covers not only the buying and selling of products and services, but also includes servicing customers, collaborating with business partners, and conducting electronic transactions within an organization.
eCommerce marketing is the act of driving awareness and action towards a business that sells its products or services electronically.
What Makes a Good eCommerce Website?
The role of eCommerce has increased rapidly with consumers using online channels to purchase everything from toilet paper to beauty products to cars. So, what makes for a great eCommerce website? How can you make sure that your business is easily found online? How can you avoid your services or products being drowned out by your competitors?

There are four main components to a stellar eCommerce site which we covered in 'eCommerce: Why Size Matters.' These are digital marketing, content, user experience, and engineering. Every good eCommerce website will have these four key pieces in place.
Digital Marketing for eCommerce
One of the key pillars of eCommerce domination is digital marketing. The digital marketing component of an eCommerce site is comprised of the online methods that are used to directly or indirectly promote products. It could include banners, online ads services, search engine optimization services, social media, blogs, analytics, and data management, among others. Each of these methods aims to promote your products or services online, drive traffic to your eCommerce website, and turn leads into conversions.
Digital marketing has to be calculated, smart, and targeted. The more targeted and specific audience you can guide to your site, the more likely you are to be making sales. Let's examine 7 intelligent ways to do digital marketing that will have your site cruising towards big conversion numbers in no time.
Know Your Customers
If you've completed a business plan then you will have an idea of your target audience and customer base. You can continue to track and learn about your actual audience using analytical tools, such as Google Analytics. Google Analytics helps you learn where your customers are, how long they stay when visiting your site, whether they make a purchase or not, where in the world they are located, and more. Make sure that your site has some analytics built-in to help you learn who your customers are and what they're buying. This way, if your actual clients are different from your target audience, you'll know and you can adjust accordingly in your strategy. How you use this data is very important to constantly optimize your eCommerce site.
Retain Emails
When a client or potential client visits your site, ask for their email address so that you can continue the burgeoning relationship with them. In 2015, an email marketing survey found email has an average return on investment (ROI) of $38 for each $1 spent. A study posted on Barilliance found that email open rates in 2019 were 41.85%. The site also noted that triggered campaigns (campaigns that revolve around a specific event) generate 306% more click-throughs per email than non-triggered emails. Further, your business can provide stock updates to clients if a product they're interested in is currently out of stock. Pop-up windows allow clients to input their information and an email will be sent when their desired size, color, and item are back in stock. You can also mitigate abandoned carts by sending personalized emails with catchy subject lines such as, "Looks like you forgot something" reminding them of their carts.
Make Your Site Responsive
Make sure that your site functions just as well on a mobile device or a tablet as it does on a computer screen. Better yet, design breakpoint-specific content that optimizes the user's experience and ensures a better chance of conversion on multiple devices. You want to make sure clients have a positive experience no matter the device they're on when they decide to visit your site. A general rule is: tell bigger stories on bigger screens, and cut to the point on mobile devices.
4. Offer Live Chat
Live chat is a type of artificial intelligence (AI) that uses smart algorithms that allow machines to communicate easily with humans. The machine (or a chatbot as it is commonly referred to) is able to "think" and accurately respond to actual clients, answering questions and resolving issues. Live chat is a great way to provide immediate, cost-effective customer service round the clock. According to the American Marketing Association, live chat is "projected to reach $2.1 billion by 2024, growing at a 29.7% rate from 2018 to 2024."
5. Give Away Quality Content
Good content will do multiple jobs for your business. It will help with search engine optimization (SEO). In addition, well-curated content can drive visitors to your site. But make sure that you're creating content in multiple formats: articles, podcasts, videos, tutorials, interviews, screenshots, audio recordings, infographics, free downloadable templates, e-books, and more. Once you've created intelligent content you'll want to share it on your social media channels. This allows you to promote your eCommerce site by offering followers information on topics of interest for free. Once your clients or visitors see your company as an expert in a given area, they'll be interested in your products, which translates into sales for your business.
6. Personalize your Site
Each of your online visitors is a unique individual who will interact with your site slightly differently. There is technology available that can track how individuals interact with your site, where they stay, which pages they skim, and so on. This allows you to customize a client's experience by showing him or her products based on past visits—that are more likely to be of interest. A customized site can also up-sell or suggest items that are either similar or that complement products a user has previously clicked on.
7. Implement eCommerce SEO
Many consumers who consider buying a product or service will perform Google searches to find information to help them make an informed decision. With the right eCommerce SEO strategy, your website will gain visibility, your products will rank higher in search, and site visitors will turn into customers. eCommerce SEO blends aspects from multiple SEO disciplines into one offering. And all of these aspects are focussed on getting your store to generate more revenue.
How Much Does an eCommerce Website Cost?
The costs of a website depend upon many factors, so it's impossible to pinpoint a price. What are your requirements regarding design? What features do you want to offer users? The more complex your website is, the more likely it is you'll need to hire a web developer.
Remember that your website is not a one-and-done project. As your business grows, so should your website. You might need to add new features or functionalities, create new web pages, and run updates to ensure your website stays relevant. In addition to a well-functioning website, security is another area of concern.
If you lack the in-house experience needed to design and host your website, nearshoring is often a perfect solution. Many companies choose to outsource their website development to companies in nearby countries because it allows them to tap into global talent without the high expenses associated with hiring in the United States.
Attract New Customers and Grow Your Business Online
Do you wonder how to build an eCommerce website from scratch? Or do you have an existing eCommerce website that you want to optimize? Regardless of where you are in your journey, with the right digital marketing strategy in place, potential customers will find your website, resulting in a boost in traffic and conversions.
Key Takeaways
eCommerce stands for electronic commerce and refers to a business model where you can buy and sell products online.

eCommerce marketing is the act of driving awareness and action towards a business that sells its products or services electronically.

The key to digital marketing is to market smartly; know your audience, tailor your message, stay in touch, and make sure your site functions well on mobile devices and desktops.

The costs for a eCommerce website depends upon many factors including design, size, and complexity.
About Pixel506
Pixel506 is a digital marketing agency that specializes in helping businesses succeed in the digital world. Since 2009, we offer creative solutions, strategies services, technology services, and digital marketing services to businesses from different industries and sizes, and with different budgets.
Most of our clients are based in the United States, while the majority of our team is located in Costa Rica, Colombia, Nicaragua, and Perú. Our geographical proximity and cultural similarities with the United States create a fast-paced and friendly working environment, and our bilingual team makes it possible to cater to both our English and Spanish-speaking clients.
Each of our eCommerce clients benefit from a unique, tailored strategy that we craft with their objectives and their audience in mind. Our experts offer business consulting services to help you make your products shine and stand out from the competition. Feel free to contact us to learn what we can do for your business.
Want to learn how our Nearshore teams can enhance your business growth?
Contact us today!