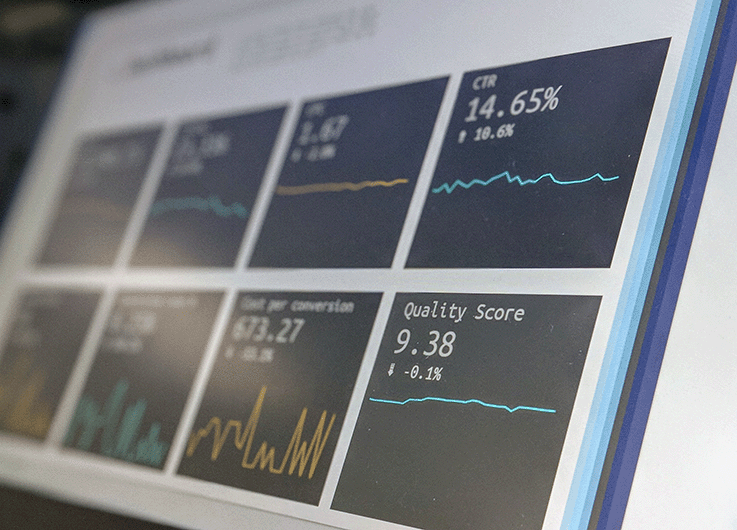 What is Brand Marketing?
Brand marketing, also known as branding, is a marketing approach that focuses on building long-lasting relationships between businesses and customers. It focuses on the total addressable market rather than the people who are ready to purchase your products.
Some examples of brand marketing include using traditional advertising on the radio, television, and print media to grab attention. Sponsorships and event partnerships are another example. Modern ways of implementing brand marketing include releasing mobile apps to enhance your customers' experiences and building relationships through social media platforms. With our branding services, we can help your brand reach its full potential.
What is Performance Marketing?
Performance marketing is a data-driven, results-based marketing approach to targeting customers and generating sales. It is based on generating results, rather than impressions. Results can be either clicks, leads, sales, views, or other types of conversions.
Some examples of performance marketing include pay-per-click (PPC), email marketing, and social media marketing. In PPC advertising, advertisers only pay when users click on their online ads. PPC platforms, such as Google Ads and Bing Ads, offer businesses the ability to set budgets, target audiences, and monitor performances.
In email marketing, advertisers send emails to their target audiences with the goal of driving sales or leads. Social media marketing is considered performance marketing when advertisers use social media networks to gain traffic and increase conversions.
Differences and Similarities
While branding and performance marketing have their own objectives, they do share a common goal. Both practices focus on maximizing the impact and reach of a brand or business. When combining brand marketing with performance marketing practices, you can unlock a powerful formula for establishing long-term growth.
We mentioned that brand marketing focuses on winning market share, whereas performance marketing focuses on maintaining lead flow and generating sales. Brand marketing strategies usually target the total addressable market, while performance marketing targets a more specific audience.
But there are more differences between these two practices. Brand marketing is a long-term strategy that distinguishes your product or service from others. Performance marketing is a short-term strategy to convert new customers quickly.
In brand marketing, the primary focus is on shaping and communicating your brand's positioning and messaging. Performance marketing centers around promoting and driving the success of specific products or services.
3 Ways to Utilize Branding and Performance Marketing
Both brand marketing and performance marketing contribute to business success, but using a comprehensive full-funnel approach yields even better outcomes. Here are three strategies for capturing the current demand (performance marketing) while also staking out future territory (brand marketing).
1. Define Clear Objectives and Budgets
First, you should set specific objectives and budgets for both long-term brand building and short-term performance marketing. Not only will this help to allocate resources, it also allows you to measure success effectively. Research by Binet & Field suggests that businesses that spend 60% on branding and 40% on performance marketing have the best ROI.
2. Understand Your Data
In today's digital age, data is a vital asset for businesses. But having access to data is one thing; making sense of it is another. While many businesses recognize the importance of performance marketing, they are confused about what to do with the data it provides. In-house or outsourced professionals can help you comprehend your data and empower you with actionable insights.
3. Ensure Brand Consistency
To effectively build brand awareness and trust, your brand's visual identity, messaging, and tone of voice should be consistent. The messages you broadcast in your short-term performance marketing efforts need to align with your brand's core values and aspirations. Your brand needs to stand for something, and both branding and performance marketing efforts should elevate that point of view.
Key Takeaways
Brand marketing, or simply branding, is a marketing approach that focuses on building long-lasting relationships between businesses and customers.
Performance marketing is a marketing approach that focuses on generated results, rather than impressions.
While brand marketing and performance marketing have their own objectives, both practices focus on maximizing impact and reach.
Balancing short-term performance marketing while maintaining focus on long-term brand building will maximize your business's potential for success.
Drive Meaningful and Measurable Results
Pixel506, a 10Pearls Company, is a full-service digital marketing agency dedicated to driving growth and success for clients. We have a proven track record of helping businesses maximize profits and achieve success through creative, customized solutions. Our team consists of specialists with different backgrounds, skill sets, and expertise, who are eager to share their knowledge. This enables us to provide all-round solutions that contribute to our client's success.
Whether it's developing new products or services, expanding into new markets, or optimizing existing processes, we can help you. Feel free to reach out if you're looking for a partner committed to helping your business drive meaningful and measurable results.
Want to learn how our Nearshore teams can enhance your business growth?
Contact us today!