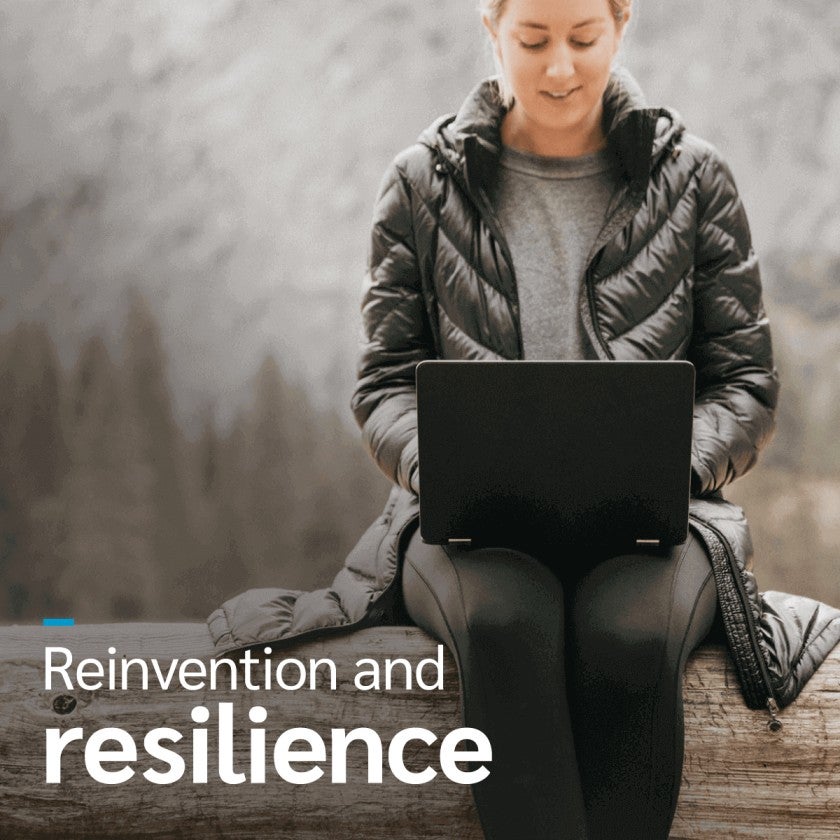 Reinvention and Resilience
Perhaps one of the questions many entrepreneurs are asking themselves today is how they can reinvent and build resilience in times of global business turmoil.
Small and medium enterprises try to sustain their products and services at all costs, while many are challenged to make their way with new job opportunities or personal projects.
Large corporations are also not exempt from what is happening in the world, so they incorporate strategies and contingency plans; however, from unexpected changes, good outcomes can also arise that will awaken business superpowers to expand their vision. Those who decide to act and find solutions in a time where cooperation and collaboration are relevant for all will reap rewards.
Company owners can use the best digital tools on the market and invest in improving their company's image. Entrepreneurs can get advice and fully investigate the viable options to start new projects, and those who are looking for a job should focus on improving their professional profiles and continuing education as much as possible in their field.
The most important thing is not to lose heart and trust that with a good attitude, solutions are closer than you can imagine, just a click away!
Platforms for change
According to the recent Facebook State of Small Business report, 31% of small businesses and 52% of personal businesses have stopped operating as a result of the crisis. This study was conducted as part of the initiative to collect data from the World Bank and the Organization for Economic Cooperation and Development on the future of business. A survey of 86,000 owners, managers, and workers of U.S. companies with less than 500 employees was conducted in the United States in association with the Small Business Roundtable.
The study led to the creation of Facebook Shops, an e-commerce product that allows businesses to set up online "stores" in both Facebook and Instagram. Companies can customize their digital stores, using cover images to showcase their brands and catalogs to highlight their products. In addition, customers can ask for help when shopping in the stores, sending messages to the owners of the companies directly through WhatsApp, Messenger, or Instagram Direct to ask questions, track deliveries, and more.
It is amazing to see how virtual project management and online collaboration tools have become indispensable due to the increasing demand to maintain productivity in remote work times and initiatives.
The challenge lies in knowing how to take advantage of the resources and potential that technology offers.
We're mentioning some inspiring platforms that showcase their services and products in new ways, encouraging business relationships, and improving internal communication.
You can leverage their services or share your expertise by offering or leading virtual courses and webinars in specific areas.
Zoom: One of the most popular, providing a reliable platform for video and audio conferencing by offering a single communications suite for productive meetings, chat, and collaboration in the workplace.
WebEx: A popular business tool for video conferencing, online meetings, screen sharing, and webinars
Google Suite: is an all-in-one for businesses that runs on the popular Google platform. The Google package goes beyond standard features like Gmail and Google Docs to include other project management fundamentals like Drive, Calendar, and Meet.
Microsoft Teams: has chat and video conferencing capabilities, file storage, and lots of application integration with other programs needed for the workplace. It is especially useful for organizations that already work with the other Microsoft programs - it has a shared workspace with programs such as PowerPoint, Word, Excel, and OneNote.
There are several pricing options available.
Yammer: is a private social media site created just for corporations. Used by 80 percent of the top Fortune 500 companies, it provides real-time communication and file-sharing that can only be accessed by staff with a valid company email address or an approved IP.
It`s all about connections!
If you want to start a new business project it will be necessary to take some risks and be fully aware of details that will set you on the course to success
A few practical tips:
Make a plan
Do not invest significant sums of money if you are just starting out
Don't try to do everything on your own
Make previous research to learn more about your potential customers
Don't copy others, but instead reinvent yourself
Work on an idea you're passionate about
Find new connections
As an entrepreneur, it is necessary that you have an optimized company website. If you do not already have one, the next step is to define what type of website you need to create: business, an online e-commerce site, a general information site, a blog, or a portfolio. Don't forget to get advice from professionals who can guide you through the process. Pixel506
Business networks like bni have been created as spaces where entrepreneurs can promote new connections to generate more income with their products and showcase their services with greater reach as this network expands to 70 countries.
There are also different business support networks in Latin América, which promote and assist entrepreneurs as well.
Take that first step and remember that the biggest mistake is to do nothing at all.
Reinvention time is here
Improving your CV should be a priority at any stage or in any professional circumstance and what better time to do so than when you are stuck at home? Roll up your sleeves cause its time to improve your professional profile!
Website builders are easy-to-use, you can customize, update, or rewrite an entire resume without any hassles, whenever you want. We're sharing the best sites we've found that are super easy to use so you can explore them and maximize time improving your professional image.
Squarespace, Wix, Weebly, GoDaddy o Strikingly
Today there are many applications and online courses to develop soft skills and why not, improve on-the-job performance or career progression to enhance your CV.
Courses like those offered through Coursera, edx, The Tip, Salesgasm o LinkedIn Learning among many others are great options.
Once your CV is updated, promote your professional profile with recruitment experts such as Recluta Talent Hunter or many others that can be found online in each country. This can be of tremendous help and open up a new vista of opportunities for you.
Fitting into the digital marketplace with a new vision
The worldwide economic situation leads us to be more creative, to improve the exchange of business experiences, and to think strategically about every decision.
It's time to gain resilience and reinvent yourself by nurturing personal and business growth with a positive best attitude that will overcome any fear or negativity.
The key is that there are lots of different ways to take those first steps toward success and remember success itself can also be re-invented. You are unique, your services, your entrepreneurship, and your dedication are also unique. At the end of the day, we're all in this together and the more we work with one another, the better off we will all be.
Want to learn how our Nearshore teams can enhance your business growth?
Contact us today!