Software Development Services
Transforming your Ideas Into Innovative Digital Solutions
Custom-made software development services
Bring us your dream and we'll work together with cutting edge technology to make your vision a reality.
Work with Pixel506 and get the help without the hassle
Our Partner Logos
Pixel506 is an award-winning agency providing solutions for all your Software Development needs.
Pixel506 is a software development company that delivers high-end products and teams with exceptional technical expertise. We not just understand your goals, but immerse ourselves in your industry, so you can continue to focus on what matters the most― growing your business.
Drive Growth with Software Development Services and Staffing
Let's bring your product to life!
We offer full scale software development services from inception to beyond launch. We partner with ambitious start-ups to enterprise-level companies across industries.
Pixel506'S Proven 4-Step Process
Ready to have your digital marketing taken to the new heights? Our 4-pase proven process will take you there.
01

Discovery

To help you, we have to know you. During this first phase, we want to learn from you about your business, industry, competitors, audiences, goals, and expectations.
02

Exploration

We lay the groundwork, map out a strategy, and develop the actions needed to execute that strategy.
03

Creation

This might be our favorite phase as we get to let our creativity run wild, provide you with solutions that we are excited about, and collaborate with you on revisions.
04

Optimization

Once your solution has been launched, it is time to evaluate it. We believe that there is always room for improvement and refinement to maximize performance.
OUR TEAMS
Staffing: Put Our Experience to Work for You
Forget about further increasing the workload of your staff or hiring and training new employees. When you choose to work with Pixel506, we'll expand your team through specialized recruitment.
We bring software development and technology expertise, and passion to every project. Plus, you can instantly scale your external team up or down depending on your project needs.
Delivery Teams
Does your project require extra hands? We provide you with a temporary team that works full-fledged for the project tenure so there's no long-term commitment. Your delivery team attends your virtual meetings, reports directly to your managers, and works closely together with your internal teams to bring your project to completion.
Why Choose Pixel506, a 10Pearls Company?
There's no need to worry about keeping up with the latest software development trends, tools, and technologies when we are staying up-to-date for you. With our services, you will successfully reach audiences who want to hear from you (while being as involved or as hands-off as you want to be.). 
Some reasons why companies choose Pixel506:
High-
performing delivery and dedicated teams.
Teams
are formed, onboarded, and integrated in days.
Professional
approach and personal attention.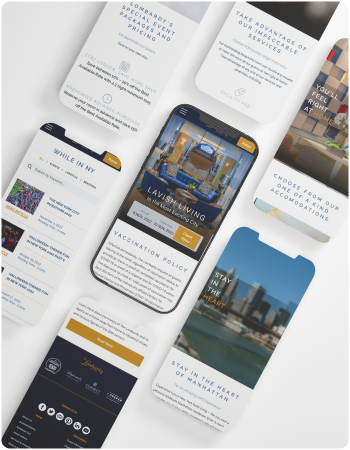 The Lombardy, New York
Built in 1926, the iconic Lombardy Hotel in New York City, asked us to establish a new commercial voice and improve user experience.
Read more →
Avantica (Now Encora)
We rebranded Avantica (now Encora), designed and executed a new website, elevated brand positioning, and created a successful digital marketing strategy.
Read more →
We are grateful for our client's trust and loyalty, and we take great pride in delivering high-quality UI/UX solutions that exceed their expectations. Here is what some of our clients have to say about us.
"I love the full-service support that Pixel506 provides. It was great to have a full team to support us in everything; from copy to design to SEO to brainstorming."
frequently asked questions
We understand you might have questions before investing in software development and solutions. We've compiled the most common questions we get asked about our services.
Can't find your question? Send us your questions using the contact form, and we'll get back to you.
What are Pixel506's policies regarding intellectual property and confidential information?
Who will be my main point of contact?
What is Pixel506's business model?
Is Pixel506 an agile company?
How does the onboarding process work?
What (communication) tools does Pixel506 use?
How does Pixel506 recruit and maintain talent?
What is the team size and roles?
Do I pay in US dollars or Costa Rica colones?
Bespoke Software Development Solutions for Your Business
When it comes to software development, there's no such thing as a one-size-fits-all solution. Every business has unique goals and challenges that require tailored solutions. At Pixel506, we understand this well, which is why our software development services can be scaled to create a unique solution that specifically fits your needs.
With our staffing services we handle time-consuming processes such as selection, legal contracts, and payments, so that your time is spent on what matters most—running your business.
Work with Pixel506 and get the help without the hassle