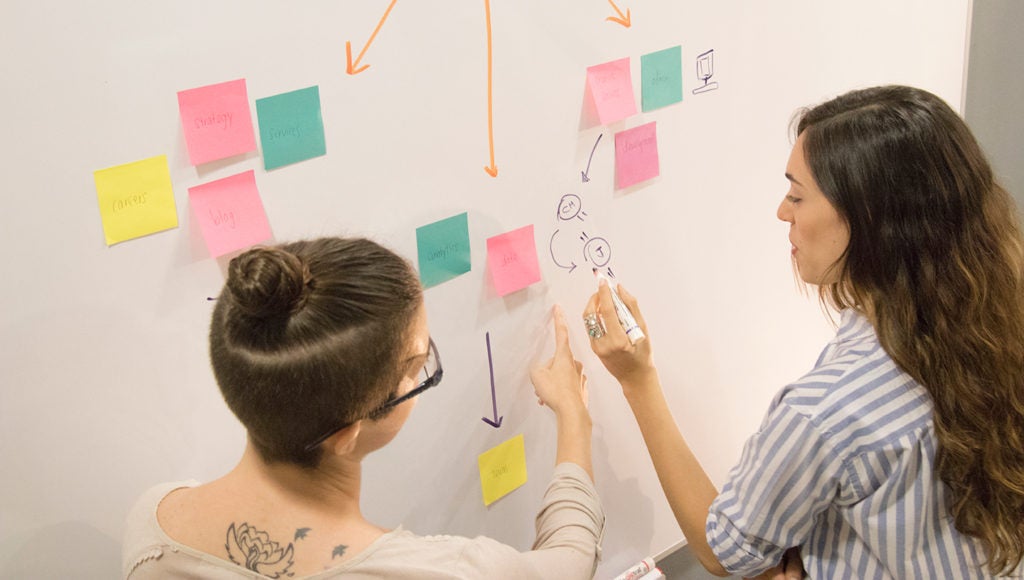 How Can You Improve Your Company Services And Products?
There are infinite ways to improve your brand and what you offer. Just about anything you do that involves careful thought, planning, and execution is almost guaranteed to do the trick. We are going to show you a little about our favorite methodology for improving products and services and proactively solving problems: Design Thinking.
DESIGN THINKING METHODOLOGY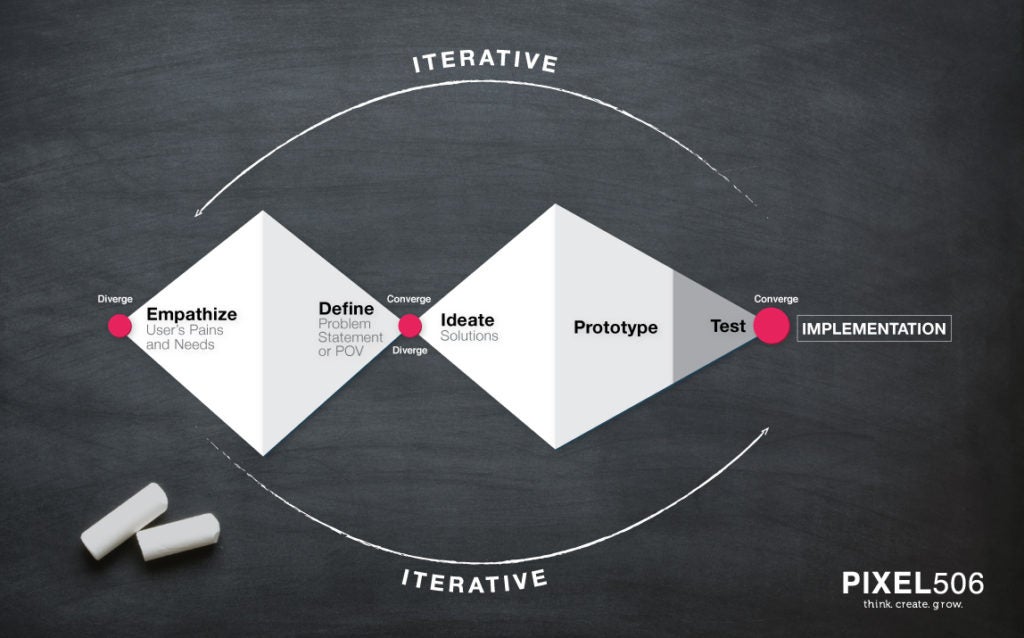 Design Thinking Process: Empathize, Define, Ideate, Prototype, Test, Implement
The Design Thinking process is an iterative methodology with the goal of finding and solving user's pains and problems. This processes involves 6 principal phases. Each phase uses diverse tools to generates insights and ideas that will be used in the next phase of the process, so that your strategy is always building upon itself. At the end of the cycle, you begin again, thus the cyclical methodology.
Here's what it looks like:
Empathize
Design Thinking uses a series of tools, such as interviews and surveys to detect user's pains and needs. The goal is to understand our users, customers, and target audience before we start thinking about how to best serve them. This cuts down immensely on mistakes and rework.
The empathize stage is the first stage, meaning everything that follows it built on this foundation of the user's needs. There are thousands of tools out there, but you must select them according to your project's needs and scope.
Define
Once you have detected your user's pains and needs, you need to define a Problem Statement or Point of View that must be followed during the next phases. This part of the process is important in order to propose a valuable solution for your users.
Another way to think about this stage is this: This is when we define our goals for the project. So far, we have studied our target users and have an understanding of what they want and need. Now we have to decide what is wrong, what to do, and start thinking about how.
Ideate
For Ideation sessions, the team may choose from another range of tools, from brainstorming to story-boarding, in order to plan how to solve their user's problems. It's up to the team to select the tools that will let them generate as many ideas as they can in an appropriate amount of time. Tools involve co-creation, creating user personas, and other brainstorming and design methods.
This brainstorming stage is about tapping into maximum creativity. It's about bringing together a variety of people with different perspectives and backgrounds in order to think of the best way to solve a problem or provide a solution.
Prototype/ Test
The team selects the most powerful ideas of the ideation sessions to be prototyped and tested. Prototypes can be physical or digital, but you should always conduct tests with your end-users in mind.
We create prototypes in order to avoid rework in the future. Rework is a product of inefficient ideation and hurried execution.
The second part of the prototyping stage is testing. Prototypes let us test our theories and ideas before we dive into full production and execution.
Implement
Once you have tested the prototype over and over again, you create a final version. Then all you have to do is prepare to be implemented and launched into the market. And since the Design Thinking process is iterative, you repeat any or all steps as often as necessary until you have a final product that your user loves and that you can be proud of.
The cycle doesn't necessarily end right away. It continues on as often as needed for your products, services, and overall brand to be on point and effective.
About Pixel506
Pixel506 is a digital marketing, user experience, and software development company that specializes in combining these three crucial components into digital solutions that improve, elevate, and grow your company. We're all about finding the right solution that will bring your company the most value.
Want to learn how our Nearshore teams can enhance your business growth?
Contact us today!